Cut and Paste Can Lead to a Plagiarism Claim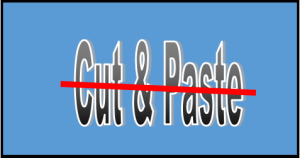 It may be tempting to use pleadings and briefs that are publicly available online as go-bys when drafting your own documents.
But be careful. If you borrow too closely you might find yourself facing accusations of plagiarism – not to mention professional misconduct.
Take, for example, this case in California where an IP attorney has been sued for copyright infringement after allegedly copying large chunks of a co-defendant's brief.
Or a Connecticut lawsuit, where defense counsel alleges the plaintiffs' lawyers "blatantly and shamelessly" plagiarized a complaint from a similar suit.
Newegg Inc. v. Sutton
The California case is Newegg Inc. v. Sutton. Online retailer Newegg was one of dozens of defendants in a patent lawsuit brought two years ago in Texas federal district court by Adjustacam, a company often described as a patent "troll." Newegg and another defendant (Sakar) refused to settle, and Adjustacam ended up dropping its case. Lawyers for Newegg and Sakar subsequently brought separate motions for attorneys' fees.
In the fee litigation, Newegg shared a draft copy of its brief with Sakar's counsel. The day before Newegg's brief was due, counsel filed his own brief that had largely been copied from Newegg's draft, according to Reuters.
When Newegg cried foul, counsel withdrew the brief and filed a new one. But that wasn't good enough for Newegg, and it sued counsel for copyright infringement in Los Angeles federal district court. The presiding judge said copying the brief was not fair use and held counsel liable for infringement. A hearing on damages is pending.
"I've never before seen a case in which a lawyer is on the hook for copying a co-defendant's brief," writes Reuters blogger Alison Frankel.
Counsel says he thought he and Newegg were on the same side. He told Reuters that once he knew there was a problem, he pulled the contested brief. He says Newegg was not harmed by anything he did.
"I've been practicing for 40 years," he told Reuters. "People take excerpts from other people's briefs and use them all the time. They just want to teach me a lesson."
Newegg says it brought the infringement case to send a message that ethical considerations matter – even when lawyers are working together. "We're out to make the point that a law license is not a free pass to violate copyright laws and to behave unethically," its general counsel told Reuters.
Consolidated Concussion Litigation
In Connecticut, a group of pro wrestlers sued World Wrestling Entertainment for concussion-related brain injuries. The complaint was almost entirely copied and pasted from a prior concussion lawsuit against the National Football League, with the words "NFL players" replaced by "WWE wrestlers." But the proofreading left something to be desired, as it refers to football player Michael Webster and attributes statements from the NFL to the WWE.
The WWE filed a Motion to Dismiss and a Motion for Sanctions, saying the complaint violates pleading provisions of the Federal Rules of Civil Procedure.
From Professional Liability Matters: "The WWE points to the 122 page complaint, which it describes as 'massively plagiarizing' from the NFL lawsuit and containing factual allegations without merit.  Attorneys for the WWE also refer to a ruling in a similar case brought by the same attorney, in which the judge required him to amend his complaint and added that 'I want you to read it this time.'"
The risk management takeaways are obvious: do your own work and review court filings with care.
There's nothing wrong with researching case law and studying similar pleadings. But ripping off someone else's work and putting your name on it is another matter entirely.
Have you had an experience along these lines? Send us a comment.
Sources: