Creating a Practice That Clients Flock To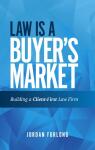 Clients are looking for better, cheaper and faster when it comes to legal services.
And if your firm is not able to deliver, they will quickly look somewhere else.
That's the message from Jordan Furlong, author of the Law21 blog and a global thought leader on law practice strategy.
The law is a buyer's market, says Furlong. By that he means it exists to serve clients – "the people and families and businesses that consult lawyers and retain law firms and thereby enter the legal market, willingly or otherwise" – rather than lawyers and firms.
The traditional law firm model assumed just the opposite: that lawyers shape and define the market.
"Law has been engineered by lawyers and others to be a seller's market," he writes in his latest book, The Law is a Buyer's Market. "It's been like a river whose current has been artificially dammed and redirected to serve the interests of the developers. This is all, finally, changing. [T]he priorities of the buyer are now emerging as the dominant force in the legal market, and the market's power dynamics are following suit. The river is being allowed to pursue its natural course, and the legal profession now has to decide whether to go with its flow."
Stubborn lawyers who stick with the old model will struggle and die, Furlong says. Clients will turn elsewhere, including to non-traditional providers like LegalZoom and AVVO.
Furlong was the keynote speaker at Lawyers Mutual's Managing Partners Summit in May.
13 Ways to Succeed in a Buyer's Market
Law firms hate change, Furlong says. They will go to great lengths to avoid it. But if change is accepted and embraced – most importantly by those at the top of the firm – great things can happen.
Here are 13 tactics for thriving in the new buyer's market:
Manage the client experience. What is it like to be served by your law firm? Ask clients during the representation and after it ends. Act on the results.
Improve your workflow. Make better use of your time. Map out, upgrade and automate legal work processes. Engage in people management.
Invest in intelligence. Client knowledge sets relations and grows business. Market knowledge drives pricing and positioning. Business knowledge is your competitive core.
Reconsider your markets. Forecast your future optimal markets and clients. Double down on those you can dominate. Be aware that inventory is shifting from hours to outcomes.
Build non-lawyer services. Leverage data to deliver value to clients via technology. Diversify your sources of income beyond lawyers. Strengthen your firm as a stand-alone enterprise.
Price for outcomes. Move from input lawyer billing to output client pricing. Price equals value to client plus competing offers plus cost of doing business. Launch pilot programs on fixed fees.
Address competition. What are you paying people to do? Incentivize team performance and client growth. Give lawyers options for how they make money.
Re-engineer sales. Reward origination proportionally. Build a professional sales support team. Accept that not every lawyer will be good at sales.
Diversify your talent. Fish in new corners of the demographic pond. Integrate non-lawyers into client service. Build your farm system.
Create a Research and Development function. What will you be offering in 2023? In 2028? To whom? Look beyond legal to a multi-disciplinary future. Let your millennials take the wheel.
Accelerate transitions. Have a succession plan. Build long, generous off-ramps from practice. Incentivize your desired departure behaviors.
Renew your culture. The four pillars of a great firm are genuine appreciation for the clients, respect for colleagues, service to community and care for self.
Grow your team. Always be looking for new talent and energy.
In coming years, expect to see a growing array of legal service providers. Some will look like law firms, others will resemble LegalZoom. They will use technology in new and different ways. They will sell services at different price points.
"Law firms can compete in that kind of market," says Furlong. "Lawyers can provide value in that kind of market. They have before, and they will again."
Sources:
Law 21 https://www.law21.ca/
The Law is a Buyer's Market, Jordan Furlong  https://www.law21.ca/books/law-is-a-buyers-market-building-a-client-first-law-firm/