Congratulations to the NC Legal Legends of Color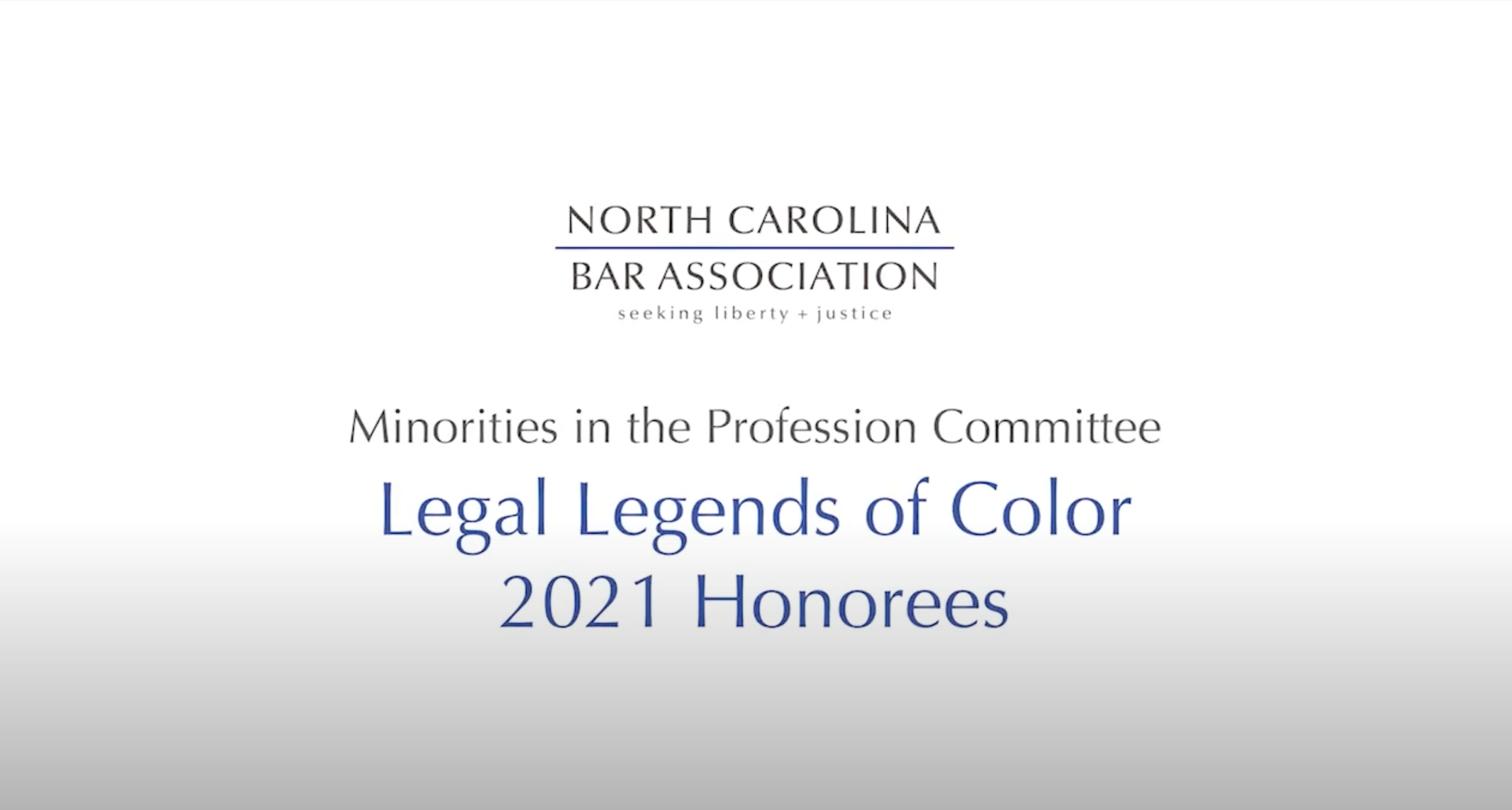 Five new Legal Legends of Color have been honored by the NC Bar Association for their contributions to North Carolina law and society.
The honorees were announced at the NCBA's annual meeting in June. They are:
Judge Elreta Melton Alexander (posthumously)
Attorney Karen Bethea-Shields
Judge Wanda Bryant
Professor James E. Coleman Jr.
Attorney Julian Pierce (posthumously)
"Impact breeds more impact," writes attorney Gwendolyn W. Lewis in this post on the NCBA blog celebrating the honorees. "For six years now, the Legal Legends of Color Awards have highlighted the lives and careers of some of the most impactful attorneys of color in our state. Their contributions, lives, careers, and stories have impacted not only the clients and communities they have served or still serve, but also the attorneys who have followed in their footsteps. Many of those attorneys have now become legends themselves."
The Legal Legends of Color Awards honors attorneys and legal professionals of color who broke ceilings for all who followed, and whose impact on the profession is undeniable.
Below are thumbnail sketches of this year's honorees.
Lawyers Mutual can help you navigate the new normal. Our email newsletter "Practice Reimagined" offers timely tips, pointers and valuable links on wellness, work-life balance and quality of life – delivered straight to your in-box. Lawyers helping lawyers. It's what we've been doing more than 40 years.


Judge Elreta Melton Alexander (posthumously; 1919 -1998). "Judge Alexander was the first Black woman to graduate from Columbia Law School in 1945 and within two years became the first Black woman to practice law in the state of North Carolina in 1947. Her hometown was Greensboro, and that is where she developed her career and where she ran for District Court judge in 1968. She became the first Black female judge in North Carolina and the first in the country to be an elected District Court judge. Judge Alexander is remembered for many things, including her willingness to combat segregation and the silencing of underrepresented voices in a southern legal system."
Attorney Julian Pierce (posthumously; 1946-1988). "Julian Pierce was born in Moore County on January 2, 1946, to sharecroppers. He was a citizen of the Lumbee Tribe. At sixteen, Julian Pierce graduated as valedictorian from Hawkeye High School, and with a full scholarship, attended the University of North Carolina at Pembroke. He graduated with a BS in chemistry and developed an award-winning chemical process for decontamination of nuclear reactors. As a second career, Mr. Pierce attended North Carolina Central University School of Law in 1973 and graduated in 1976. He began his career with the U.S. Securities and Exchange Commission in Washington, D.C., and simultaneously earned his Master of Laws in taxation from Georgetown School of Law. In 1978, he returned to his Lumbee community as the first director of the Lumbee River Legal Services, a poverty law office in Pembroke. For ten years, he worked at Lumbee River Legal Services to raise the standard of legal care for poor citizens of Robeson County."
Attorney Karen Bethea-Shields (1949-present). "Attorney Karen Bethea-Shields earned her law degree in 1974 from Duke University School of Law. She was one of the first three African American women students to graduate from the law school. She began her practice in criminal law and her first case was State v. Joan Little, later known as "The Trial of the Century," where she successfully defended a young African American woman on trial for murdering an abusive jailor. Her client became the first woman in United States history to be acquitted using the defense that deadly force was used to resist sexual assault. In 1980, Karen Bethea-Shields became the first woman to be elected to a judgeship in Durham County, totaling just two African American women in the North Carolina judiciary at that time. After her judgeship ended in 1985, attorney Karen Bethea-Shields returned to practice."
Judge Wanda G. Bryant (1956-present). "Judge Wanda G. Bryant received her B.A. degree from Duke University and her law degree from North Carolina Central University. She began her legal career serving as the first female and first African American prosecutor in the 13th Prosecutorial District in eastern North Carolina. She also was the first staff attorney for the Police Executive Research Forum in Washington, D.C. Prior to taking her judicial oath of office, she served as Senior Deputy Attorney General in the NC Attorney General's Office, where she led the newly created Citizens' Rights Division. Judge Bryant also served as an Assistant United States Attorney in Washington, D.C., where she focused on the prosecution of child and adult sexual assault cases. Judge Bryant was appointed to the North Carolina Court of Appeals in February 2001 and was successfully elected in November 2004 and in 2012. She recently retired from the bench."
Professor James E. Coleman Jr. (1946-present). "Professor James (Jim) Coleman earned his law degree from Columbia University in 1974 and his Bachelor of Arts from Harvard University in 1970. He joined Duke University School of Law's full-time faculty in 1996 and is currently the John S. Bradway Professor of the Practice of Law, Director of the Center for Criminal Justice and Professional Responsibility, and Co-Director of the Wrongful Convictions Clinic. A native of Charlotte, he was in private practice for 15 years in Washington, DC, concentrating in federal court and administrative litigation and representation of criminal defendants in capital collateral proceedings. Professor Coleman's career also includes a range of government experience, including positions as an assistant general counsel for the Legal Services Corporation, chief counsel for the U.S. House of Representatives Committee on Standards of Official Conduct, and deputy general counsel for the U.S. Department of Education. He served as Chair of the ABA Section of Individual Rights and Responsibilities and of the ABA Death Penalty Moratorium Implementation Project, and has served on various state commissions focused on wrongful convictions, the death penalty, and criminal justice."
Source: NC Bar Blog
Have you checked out Lawyers Mutual Consulting & Services? Founded by Camille Stell, who also serves as president, LMCS is a subsidiary of Lawyers Mutual. Its mission is to help firms build a modern law practice. It does that by offering expert advice and assistance into law firm trends and best practices. Camille and LMCS helps lawyers and firms create strategic plans and succession plans. A popular speaker and writer, Camille loves to guide lawyers through succession planning and into Life after Law. Contact her today.