Client Caught With Cheat Sheet In Deposition Hallway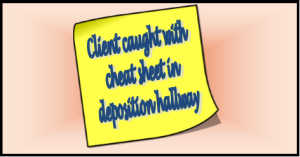 Sometimes good risk management is as plain as the nose on your face.
Say, for instance your client brings a cheat sheet to a deposition. The sheet might be a summary of facts, a calendar of key events, a timeline, a list of anticipated questions, something you prepared as a study aid, whatever.
The point is, you don't want your opponent to catch your client reviewing said homework materials out in the hall during a break. That would be embarrassing, or worse.
But it happened in this case, as reported by Professional Liability Matters.
Cheat Sheet Exposed
A plaintiffs' lawyer was representing a woman in an employment discrimination claim. Before her deposition, she was spotted going over handwritten notes. She said the notes were personal –they included her grocery list – and had nothing to do with the discrimination case.
Defense counsel asked to see them. Plaintiff and her lawyer said no. They continued to refuse until a judge ordered the notes produced. What they turned over was a different set of hand-written notes, not the ones spotted in the hall that day.
Defense counsel said plaintiff and her lawyer had "misrepresented the contents of the notes, refused requests to allow them to be inspected, and despite the fact that plaintiff was instructed to preserve the notes and turn them over, what she ultimately produced was not in fact the notes she was reviewing at the deposition."
Sanctions Against Lawyer and Client
As a sanctions hearing, the court found that plaintiff and her attorney were jointly and severally liable for spoliation of evidence. The court found that plaintiff and her lawyer engaged in "intentional and calculated conduct, beginning at the deposition and continuing through the January 14, 2016 hearing before the court, as well as their related filings with the court, that left the court with no choice but to sanction them for the inappropriate behavior."
The sanctions bill for attorney fees and court costs was approximately $14,000.
3 Takeaways
Prepare your client for testimony but don't write the script.
Leave whatever you don't want the other side to see at home or in the car outside.
Don't attempt to equip your client with a wireless earpiece radio transmitter for coaching through testimony.