Celebrating 40 years of service: Reflections from Vice President of Claims, Will Graebe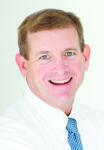 Lawyers Mutual is celebrating 40 years of service to the legal community. Will Graebe serves as Vice President of Claims. Everyone who knows Will probably has a funny story to share about him. Those of us who work with him also get to see the side of him that is passionate about the mission of Lawyers Mutual and our impact on the legal community. We sat down with Will to reflect on the past, present and future of Lawyers Mutual.
LM: How long have you been with Lawyers Mutual?
WG: 19 years. I joined Lawyers Mutual as a claims attorney in 1998 and I became Vice President of Claims in 2009.
LM: 40 years in business is a major milestone. What would you say is one key factor in Lawyers Mutual's success?
WG: Passion. We actually care about our insureds and we want to do everything we can to protect them and our profession. That makes us different and I think better.
LM: What major changes have you seen in the company since you started?
WG: Technology—good and bad. We have gone from a world of fax machines and paper files to a paperless system and VPN access. While technology has made us much more efficient, it has also increased cyber-crime risks for our company and our insureds.
LM: How has your position evolved as the company has grown over the years?
WG: I was a claims attorney for 11 years before becoming Vice President of Claims. My current job doesn't look anything like it did back when I handled claims. When people ask me what I do, I usually just tell them I have A LOT of meetings. 
LM: What is the most rewarding aspect of your job? 
WG: The most rewarding and most enjoyable aspect of my job is working with our very talented in-house claims attorneys and extremely capable outside defense counsel to come up with creative ways to either pull our insureds out of the ditch or to craft the best defenses that we can provide to our insureds facing malpractice claims.  Our people and our proactive approach makes us so different from other legal malpractice carriers. The first thing that we always do when an insured reports a mistake is to see if we can fix it. We have been fixing problems for 40 years and we have an arsenal of tools and strategies to extricate our insureds from difficult situations.  If we can't fix it and we have to defend a malpractice claim, we have the best panel of defense attorneys of any carrier insuring lawyers in North Carolina. It has been an honor and a wonderful learning experience working with these lawyers.
LM: What is one of your fondest memories of your time at Lawyers Mutual?
WG: The fishing trip I took to the Everglades back in 2008 . . . . Oh, hold on. You meant work memory. I would have to say my fondest work memory was our 2005 Lawyers Mutual Christmas party/dinner at Bloomsbury Bistro. That night typified the camaraderie among co-workers that I have always experienced here.
LM: How is Lawyers Mutual preparing for the future of the profession?
WG: We're listening to our insureds, experts and innovators so that we can anticipate and adapt to meet the changing needs of our insured lawyers.