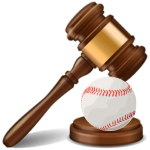 There is a strange and wonderful synergy between baseball and the law.
It goes all the way back to the appointment of a federal district court judge – Kennesaw Mountain Landis – as the first baseball commissioner nearly 100 years ago. And it continues to the present, with sports writers spending as much time covering steroids, player strikes and spitballs as they do reporting game results.
So what better companion for your upcoming beach trip than a little summer reading that combines the law and our national past-time?
Here are eight reading suggestions that are not novels or breezy odes to green grass and the boys of summer – but weightier, nonfiction works that explore the business and legal aspects of the game (courtesy of lawyer-professor-bibliographer Amy Beckham Osborne and Penn State Law School):
"The Money Pitch: Baseball Free Agency and Salary Arbitration," Roger Abrams. (Philadelphia: Temple University Press, 2000) Think salary disputes are a recent phenomenon? Think again. This work puts labor issues in an historical context by examining the long history of labor-management disputes, including the bitter salary negotiations of Ty Cobb in the days before arbitration and free agency.
"Lords of the Realm: The Real History of Baseball," John Helyar. (New York: Villard Books, 1994) The author is a Wall Street Journal writer whose beat is the business of sports. This book was assembled from the best of his articles, including interviews with hundreds of people who have shaped the game.
"Stee-Rike Four! What's Wrong with the Business of Baseball?" Daniel Marburger, editor. (Westport, Connecticut: Praeger Publishers, 1997) This book emerged from a 1991 conference at Middlebury College on the economics of baseball. Topics include collective bargaining, free agency and antitrust. Plus there are lots of tables and charts for stats freaks.
"A Whole Different Ball Game: The Sport and Business of Baseball," Marvin Miller. (Secaucus, N.J.: Birch Lane Press, 1991) No one was more qualified to write about the business side of baseball than the late executive director of the Major League Baseball Players Association from 1966 to 1982. Among other treats, he provides a first-person, behind the scenes account of outfielder Curt Flood's historic Supreme Court challenge to baseball's infamous reserve clause.
"For It's One, Two, Three, Four Strikes You're Out at the Owners' Ball Game," Richard G. McKelvey. (Jefferson, N.C.: McFarland & Co, 2001) In baseball, the word "strike" is scary for more than one reason. This book shows that labor-management friction on and off the field is nothing new, tracing work stoppages back to the early 1900s.
"Judge and Jury: The Life and Times of Kennesaw Mountain Landis," David Pietrusza. (South Bend, Indiana; Diamond Communications, 1998) The stern, imposing Landis left the bench to become the game's first commissioner. This book describes the man behind the myth.
"Baseball and the American Legal Mind," Spencer Weber Waller, Neil B. Cohen, and Paul Finkelman, editors. (New York: Garland, 1995) This book is a compilation of case summaries, essays and trial excerpts. Included is the law journal article, "A Comment on the Common Law Origins of the Infield Fly Rule," snippets of Casey Stengel's 1958 testimony before the Senate Judiciary Subcommittee on Antitrust and Monopoly and an abstract of "Chicago National League Ball Club, Inc. v. Thompson," the case that led to night baseball at Wrigley Field.
"Courting the Yankees: Legal Essays on the Bronx Bombers," Ettie Ward, editor. (Durham, NC; Carolina Academic Press, 2003) This one is a treat for Yankees fans, starting with the first chapter: Joe Dimaggio and His Lawyer.
What's in your summer book bag? Send us your literary recommendations.
Sources:
Jay Reeves a/k/a The Risk Man is an attorney who has practiced North Carolina and South Carolina. Formerly he was Legal Editor at Lawyers Weekly and Risk Manager at Lawyers Mutual. Contact him at jay.reeves@ymail.com