The Average American Writes 38 Paper Checks Annually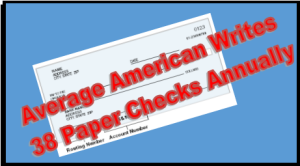 In this age of PayPal, bitcoin and online banking, many Americans still prefer to pay their bills with old-fashioned paper checks.
Then again, you probably already know that from your law practice.
When it comes to check writing, the US is an outlier. Most other countries have largely converted to electronic transactions, and some have done away with checks altogether.
In 2015, the average American wrote 38 checks, according to the Bank of International Settlements. That compares with 18 in Canada, eight in the UK and almost zero in Germany.
And though usage has dropped steadily since the 90s, checks are far from extinct.
"Checks have been in decline since the mid-1990s, but up until a decade ago, they remained Americans' favorite method of payment other than cash," according to Bloomberg News. "And although electronic payments, debit cards, and credit cards are more popular these days, the rate of checks' decline has slowed, according to a Federal Reserve payment study from last year."
Debits Cards Rule
In purely economic terms, checks are a losing proposition. Electronic transactions are cheaper and faster. The median cost of issuing a check is $3, according to a 2015 survey by the Association for Financial Professionals, compared to 30 cents for a e-transaction. Then there are the added costs of postage, envelopes and purchasing the checks themselves.
Here is how Americans made non-cash payments in 2015:
Debit cards – 60 billion transactions (up from eight billion in 2000)
Credit cards – 34 billion (up from 15 billion in 2000)
ACH – 23 billion (up from five billion in 2000)
Checks – 16 billion (down from 42 billion in 2000)
Prepaid debit cards – 10 billion (up from zero percent in 2000)
The trend is clear. Of the five listed payment methods, the only one that has declined in usage since 2000 is paper checks. Even so, a significant number of people – mostly older and rural Americans, and households without banks accounts – still rely on checks.
"Old habits die especially hard in the business world, where more than half of business-to-business payments are still made by check," says Bloomberg.
Banks are encouraging customers to make electronic transactions. But the fragmented nature of the banking system – with more than 10,000 depository institutions nationwide – makes uniformity a challenge.
"We have probably the most antiquated payment system in the whole world," says one financial expert in the Bloomberg piece.
One task force examining the issue has set a goal of implementing real-time, secure electronic payments everywhere in the US by 2020. But even the group's members say getting there will be difficult.
What is your experience? How do your clients pay?
Source: