Ask Dahlia Says "No" to Free Consultations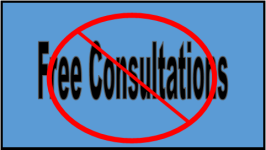 There is no free lunch, and apparently there is no free client consultation either.
This is not to say lawyers don't do them. They do free consultations all the time, for lots of legitimate reasons. It is good marketing. It gets people in the door. In some practice areas, like plaintiffs' personal injury, it is almost mandatory.
Lawyers offer free visits out of altruism, or compassion for the interviewee, or because the Rules of Professional Conduct says we should give some of our time away free. It's part of who we are as lawyers.
But it is important to recognize that even so-called free consultations come at a cost – and you're the one footing the bill.
That's why one top practice adviser advises against them:
"[M]y recommendation would be to charge," says Chicago attorney Dahlia Saper, author of the Ask Dahlia advice column appearing monthly in the ABA Journal. "Clients have to pay $100 for the initial consultation, in advance, in order to secure an appointment with me or another attorney at my office. Clients are also informed up front that this is a reduced fee and that our hourly rate is higher. If a client is serious about retaining you or learning more from your expertise, $100 should not scare them off. You in turn can recoup some of your time and attract more discerning clients."
Booking Your Law Journey Online
"When I first started out, I offered prospective clients a free initial consultation," writes Saper. "I figured I had the time and that free consultations would help me attract more clients. Some of these free client meetings resulted in the client ultimately retaining me, but the majority resulted, instead, in wasted preparation and meeting time. This was especially true when I pored over client information only to let the client know, at the free meeting, that she did not have a case.
I continued to justify this practice as the cost of doing business—until my call and meetings schedule became unsustainable. I found myself repeatedly teaching copyright and trademark law, explaining how our litigation system worked, or worse, explaining why that post on [pick your website of choice] did or did not constitute defamation."
Saper discovered she was giving away too many precious hours on nonbillable activity. So she tweaked her client intake in a few ways:
· She created a series of YouTube videos in which she answered frequent client questions.
· She posted similar FAQ information on her website and linked to the videos.
· She invested in a custom appointment scheduling tool that integrates with PayPal.
· She added a button on her website directing prospective clients to "Book An Appointment."
She also uploaded lots of client information onto her website, including helpful links, online resources and other tools so people could help themselves. She knew from experience what questions clients tend to ask, and she made that information available free of charge.
Many clients got what they needed without having to schedule an appointment. For those who wanted to come in, scheduling was quick and easy.
As for her own schedule, Saper found all sorts of free time opening up once she tightened her "free visit" policy – time previously spent meeting with prospective clients, and time consumed by the scheduling and appointment process, all for meetings that did not bring in revenue.
What about you? Do you charge for initial consultations or do you offer them free?
To read more by Jay Reeves, check out our monthly Put Into Practice monthly newsletter.
Sources:
· Ask Daliah AskDaliah@ABAJournal.com
· ABA Journal http://www.abajournal.com/news/article/ask_daliah_free_client_consultations_can_cost_you?utm_campaign=sidebar