Are Online Judges on the Way?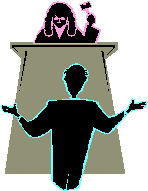 Ready for Internet judges and online hearings where clients can resolve their differences pro se without having to leave their living room or hire an attorney?
It's coming, says one legal futurist.
"A better way of running state-based dispute resolution is largely using technology, rather than traditional methods," says Richard Susskind, the eminent British legal scholar and technology guru, in this American Bar Association podcast. "Rather than hiring a lawyer, one might instead have an online dialogue with the other party and a judge and resolve a dispute more rapidly."
Susskind – the President of the Society for Computers and the Law and an Oxford professor – has been a thought leader on legal technology since the 1980s. When he is not writing and speaking on all things tech, he serves as IT Adviser to the Lord Chief Justice of England and Wales – a title we all dream of putting on our letterhead some day.
Now he gazes at the horizon and sees online courts with lawyers nowhere in sight.
In the UK, a roadmap for getting there was published in 2015 by an Advisory Group on Online Dispute Resolution. The report recommends the establishment of Her Majesty's Online Courts, consisting of three tiers: online evaluation, online facilitation and online judges.
The benefits? An increase in access to justice, Susskind says, and huge savings in the costs of court administration.
Embrace Change and Thrive
All this is awful news for lawyers, right? Not necessarily, says Susskind. Online courts could open up new and lucrative opportunities for attorneys – at least those who are willing to embrace change.
"Ideas about using technology present a rosy future indeed," he says. "My optimism derives from my aim in life, which is to try to make the law and dispute resolution more accessible to the ordinary person and businesses, too. The pessimism lies in relation to those lawyers who are unwilling to change. As we move into the [2020s], unless you are adaptable, entrepreneurial and really willing to embrace technology, there's a rather grim future ahead."
The US court system – much larger and more diverse than its UK counterpart – has historically been slow to embrace technological change.
One exception is the U.S. 9th Circuit Court of Appeals, based in San Francisco. The nation's busiest appellate court was using email before many Americans had even heard of the term. And in 2013, it became the first court in the federal system to begin live-streaming oral arguments.
"The 9th Circuit has a long history of using advances in technology to make the court more accessible and transparent," said Chief Judge Alex Kozinski at the time. "Video streaming is a way to open the court's doors even wider so that more people can see and hear what transpires in the courtroom, particularly in regard to some of our most important cases."
Are online courts a good idea? What do you say?
Sources: