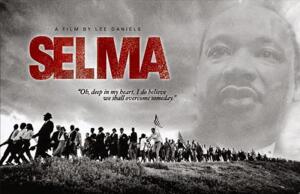 When the credits began to roll for the movie "Selma," the crowd in the packed Chapel Hill theater did something I had not experienced before.
They began to applaud.
It was not just a few random folks scattered here and there. Everybody started clapping.
Applause at the end of a film is not so unusual. Some people clapped at the conclusion of "Wild," and I even heard ragged applause at the end of "The Hobbit" – which I suspect was more out of relief than respect.
But for "Selma" – the story of Dr. Martin Luther King's 1965 civil rights efforts in Alabama – the building exploded in applause. Not only that, we stood for an ovation that went on and on, lasting until the screen finally went dark and the lights went up.
The experience was almost as powerful as the 120 minutes that preceded it. There was a sense that we had shared something powerful and important. As I filed out, I was surrounded by people of every color – black, brown, white, yellow – something that would not have occurred in the days depicted in the film.
So even though Selma is not without its detractors – some complain the movie unfairly and inaccurately depicts President Johnson and other historical figures – I hope it wins the Academy Award for Best Picture.
One scene sums up the film's greatness. Early on, we see Dr. King in jail. He is tired. He is discouraged. He wonders aloud if it is all worth it. But his friend Ralph Abernathy (movingly portrayed by Colman Domingo) reassures him of the rightness of their cause by quoting from the Book of Matthew about the birds of the air and the futility of worry.
It is a lovely and graceful 90 seconds. It stuck with me. For that scene alone, "Selma" deserves the highest honor.
And The Winner Is …
Here are the eight Best Picture nominees:
The Imitation Game. As World War II engulfs Europe, a group of math geniuses secretly gather in England to try and crack the code of a captured German Enigma encryption machine. The group's leader – the brilliant, eccentric Alan Turing – must hide his homosexuality or risk arrest and persecution by the country he is fighting to save.
American Sniper. Chris Kyle – a member of the Navy SEALS deployed to Iraq - becomes the most skilled and deadly sniper in U.S. military history. His four tours of duty, though, take a heavy toll on his health and family relationships.
Birdman. The aging star of the Birdman superhero films hopes to reestablish himself as a serious actor by mounting his own dramatic production on Broadway. To do that, he must conquer a quirky cast, egotistical behavior and his own self-doubt.
Boyhood. Filmed over the course of 12 years, this story of a young boy named Mason is a cinematic marvel. We see Mason age before our eyes as he experiences the joys and difficulties of growing up.
The Grand Budapest Hotel. The owner of a once-luxurious Alpine hotel tells his story – one of looniness, loneliness and love - to a visiting writer.
The Theory of Everything. This biopic of brilliant physicist Stephen Hawking is also the very human story of a man who refused to let a devastating diagnosis of progressive motor neuron disease derail his life or career.
Whiplash. A promising 19-year-old jazz drummer is pushed – sometimes brutally so – to greatness by the most intimidating teacher at his music school.
Selma. The life of Martin Luther King Jr. is examined through the dramatic events surrounding the 1965 freedom marches from Selma to Montgomery.
Which of the above movies do you think should win the Oscar? Do you have a favorite from 2014 that you think was wrongly omitted? Send us your comments.
Jay Reeves a/k/a The Risk Man is an attorney who has practiced North Carolina and South Carolina. Formerly he was Legal Editor at Lawyers Weekly and Risk Manager at Lawyers Mutual. Contact him at jay.reeves@ymail.com.