Act Like a Law Student, Think Like a Boss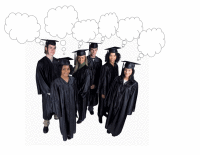 Here you are, your first year of law school. Whether it's everything you dreamed it would be or you find yourself constantly asking "what was I thinking?", you're here and soon you'll be able to proudly declare that you survived your first semester of law school. Between contract law, torts and study groups--you're always in law student mode.
You may have answered these questions over and over (or perhaps never really considered them), but it's always a great idea to keep these questions in mind and re-visit them throughout your law school journey.
1)      What type of lawyer do you want to be?  No, I don't mean your preferred area of practice. Think about the qualities you admire in your mentors that you want to incorporate into your personal "lawyering style." 
2)      What is your ideal legal job? What type of firm do you see yourself working for? Perhaps you desire to hang your own shingle. Think about the type of firm culture that appeals to you. You may even want to explore alternative legal careers; you'd be surprised how much you can do with your J.D.
3)      What are you doing now to help you land your legal dream job? It's never too early to begin "thinking like a boss." Begin thinking about the type of extracurricular activities and community involvement that you would find impressive on a resume if you were looking to hire a new attorney.
Tips for thinking like a boss:
You're the boss. Think about advice you would give to a candidate who was interested in working for your firm.
Dress for success. This certainly doesn't mean wear a business suit to class every day. However, you never know who you'll meet throughout the course of your day and first impressions are everything. You don't want to find yourself face-to-face with a judge or visiting attorney wearing your coffee stained hoodie and ripped jeans.
Be Confident.  Bosses like to see someone who is confident. Get into the practice of introducing yourself to program speakers when you attend career services programs or other campus events. Make an effort to arrive a little early to give yourself a few minutes to network with the guest speakers. This is a sure way to leave a lasting impression.
Don't burn your bridges. The legal industry is certainly not one where you want to burn bridges. Keep this in mind as you go through law school and build relationships with your professors, peers and your career services staff. When you begin looking for internship opportunities, you'll need recommendations. What would your professors have to say about you if asked right now?
Be aware of your web presence. Not only are potential employers performing google searches for more information about you, but they are looking at your social media profiles. What would a potential employer learn about you from viewing your online profiles? Remember: think like a boss. We leave behind a digital footprint. Those wild party photos your bestie tagged you in a few weeks ago are still visible on your Facebook profile. It's important to check your privacy settings and be mindful of your social media activity.
Get it "write." The first contact you have with your potential employer will often be through written communication. It's important to fine tune your writing skills. Proofread and proofread again before sending emails, submitting resumes and cover letters.
Even though you have two more years of law school; it's a great idea to start thinking like a boss. It's never too early to think about what you should be doing now to prepare for your future.
Act like a law student, think like a boss.
Monisha Yowell is the Marketing Coordinator for Lawyers Mutual. Monisha connects Lawyers Mutual with our insureds and the legal community through the use of social media. You can reach Monisha at 800.662.8843 or monisha@lawyersmutualnc.com.