ABA Law School Accreditation Under Fire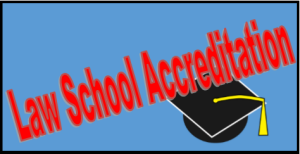 Worries about rising tuition, soaring student debt and a stagnant job market has prompted a federal education panel to recommend suspending the ABA's power to accredit new law schools for a year.
The panel said it wanted to "send a signal" to the ABA, which has continued to green-light new schools while not withdrawing accreditation from a single existing institution since 2011.
"This feels like an agency that is out of step with a crisis in its profession," said committee member and Southern New Hampshire University president Paul LeBlanc in this ABA Journal story. "[O]ut of step with the changes in higher ed and out of step with the plight of the students that are going through the law schools."
The move came at the June 22 meeting of the Department of Education's National Advisory Committee on Institutional Quality and Integrity.
"Committee members clearly were frustrated with the ABA council's failure to address student debt, employment prospects and bar passage," writes Ohio State University law professor Deborah Merritt on Law School Café. "They see those issues as integral to educational quality."
Read the full transcript of that meeting here.
The Power of Accreditation
The ABA, through its Council of the Section of Legal Education and Admissions to the Bar, has the authority to accredit law schools. For law schools, this is much more than a Good Housekeeping seal of approval – it's key to survival. Accreditation helps schools attract new students and make them eligible for federal loans. It also qualifies graduates to take the state bar exam.
By the same token, the ABA must maintain its accreditation as an accreditor by the Department of Education, and it has to renew its credentials every five years. The ABA is up for renewal this year. And while in past years the process was relatively smooth sailing, this year it was anything but.
"First, the ABA had to concede that our accreditation standards offer students and lenders little protection against schools that charge high tuition while generating weak bar passage rates and employment outcomes," writes Merritt. "Second, NACIQI questioned the ABA's enforcement of its current standards. Law student debt has been rising, while job outcomes and bar passage rates have been declining, for some time now. At least a few law schools, NACIQI members noted, appear to produce very high debt for very poor outcomes. Why hadn't the ABA done anything to put those schools on probation or otherwise enforce its standards?"
Students as Informed Investors
In its defense, the ABA said it scrutinizes schools that raise "flags" and has begun auditing schools for accuracy on employment statistics. But the panel wondered why it took so long. One member noted the ABA made similar promises in 2011 but did nothing until the eve of this year's recertification meeting:
"I went back to look at the 2011 transcript where you said at that time that you would be designing a protocol so in fact it has taken a very long time and in fact it is just in time to meet with us that you have come up with this auditing. I am glad you have gotten it done but it is amazing to see what a meeting can do to focus one's attention because I remember back in 2011 we had some pretty heavy conversations prompted by [Senators] Grassley and Boxer and others who were deeply disturbed about this representation of placement rates and duping of students and at that point you promised us [to] keep up and try to work a little faster."
Other highlights:
The panel said the ABA is slow to help students but quick to protect faculty, citing as an example Standard 403, which requires full-time faculty to teach "substantially all" of the first-year coursework and more than half of all credit hours or two-thirds of student contact hours.
The panel said "never before" has there been such a need for students "to be informed investors in their own futures empowered with accurate and timely information about institutions."
The panel voted 6-4 to strip the ABA of accreditation powers for a year.
The ABA says it might have to become "more paternalistic" in setting standards for student debt and requiring disclosure from schools on student loans.
The DOE has tied career-college student aid to the income/debt ratios of recent graduates. Will it do the same for law schools?
Are you a student or law professor? What are your views on ABA accreditation?
Sources: