ABA Launches Law Student Website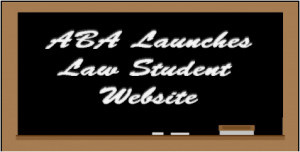 The American Bar Association's Law Student Division has rolled out a new website designed to help law students succeed in school and afterward.
ABA for Law Students debuted in November 2015. The site includes job leads, internship postings, study aids and other career tools.
"There's no other resource in one place where you can get guidance and all the necessary tools you need to be a successful lawyer," says ABA President Paulette Brown. "You don't have to join five other organizations to get everything you need. You can get everything you need right here."
An added bonus: if you're one of the 115,000 students in ABA accredited law schools, you can get published on the site's Before the Bar blog.
"I not only invite you to enjoy and experience our blog and all the benefits our website has to offer, but I also welcome you to be featured on our website," writes ABA-LSD chair Fabiana Duarte. "Write a 500 to 1,000 word blog post. Offer to write a column or article for our Student Lawyer magazine. Subscribe, rate, and review our national podcast on iTunes and Android podcast apps such as Soundcloud or Stitcher."
Free Goodies for Law Students
Here are some of the site's benefits:
Another highlight is the Law School Podcast, a collaboration with Legal Talk Network that covers topics like best job-hunting practices, bar exam preparation and Public Service Loan Forgiveness. Recent guests were ABA President Brown and BARBRI founder Richard Conviser.
Free Quimbee Membership
In addition, students can get a six-month semester of online Quimbee study aids for free. Sign up here. Quimbee is a popular, highly-rated suite of student learning resources that includes:
On-demand video law school lessons
Practice exam questions
Written case briefs keyed to the most popular law school casebooks
Quimbee's outlining tool
Are you an ABA member (it's free for law students)? Have you visited the ABA for Law Students site? What did you like/dislike about it?
Sources:
Jay Reeves a/k/a The Risk Man practiced law in North Carolina and South Carolina. He is a former Legal Editor at Lawyers Weekly and Risk Manager at Lawyers Mutual. Contact him at jay.reeves@ymail.com.