A Murderer Wins #ThrowbackThursday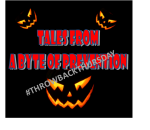 Gather around as we tell you a tale of an attorney who got sued by a client in jail.
The client was an Alabama woman sentenced to life for killing her husband's ex-wife. So how did the attorney come to suffer great strife?
Everyone loves a good scary story, and while this one doesn't get too gruesome and gory, it's sure to give some attorneys a great scare—a $2million malpractice claim is quite the nightmare.
It's Throwback Thursday and almost Halloween so we thought we'd share this oldie but goodie (try not to scream).