A Dozen Ways to Boost Your Blog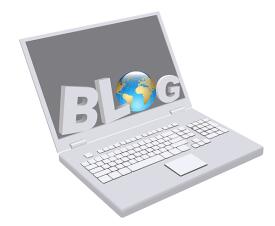 In the fast-moving and ever-changing world of social media, blogs get little respect.
Twitter, Instagram, Vine and Vimeo are hogging all the attention. Tomorrow a shiny new app will grab the spotlight.
Meanwhile, the humble blog – like The Dude – abides.
But one marketing and communications expert says blogging is more important today than ever before:
"[F]or organizations and individuals that want to be known for their ideas, the clearest — yet most underrated — path is through blogging," writes North Carolina native and Duke University adjunct professor Dorie Clark. "It hasn't been buzzed about in years, but it's more essential than ever…. Indeed, if you want to shape public opinion, you need to be the one creating the narrative. A fascinating study last year by Yahoo Research showed that only 20,000 Twitter users (a mere .05 percent of the user base at the time) generated 50 percent of all tweets consumed. A small number of 'elite users' sets the conversational tenor, just as in the general world of blogging."
Fifteen Years and Counting
The term "weblog" was coined in 1997 to describe an emerging form of online journal. The shorter "blog" came two years later, as a play on the words "we blog."
In the ensuing decade-and-a-half, the blog morphed from its original "Dear Diary" identity to become a key business marketing tool. It's inexpensive, easy and fun. It's also effective.
And it's perfect for lawyers because we love to talk, mostly about ourselves.
12 Blogging Tips
Have a purpose. Blogs do different things. They report news events. They build relationships. They start conversations. They provide expert commentary. They promote upcoming events. Understand why you're blogging before you start doing it.
Have a snappy headline. Include words – million dollars, win, auto accident – that grab attention and telegraph what's coming. Bonus tip: Come up with a good name for your blog "Divorce Discourse" (Lee Rosen). "A Byte of Prevention" (Lawyers Mutual).
Use listicles. 3 Things to Do to Avoid a Tax Audit! 5 Important Steps to Take If You Have an Auto Accident!
Blog regularly. It is better to not even have a blog than to have one that has only stale and outdated information. Keep your content fresh. Daily posting is good. Three to five posts per week is okay.
Keep it short. Try to keep your post to 750 words or less. Keep your sentences short, 15-17 words on average. Use simple words and short paragraphs. Add pictures, videos and graphics. We live in visual world.
Include a Call to Action. Ask the reader to do something to connect with your firm: Click here for free brochure. Register for a free divorce seminar. Call for an initial consultation.
Don't be offensive or inflammatory. The goal is to attract potential clients, not repel them.
Proofread your posts. Better yet, get someone else to read them before publication. Never rely exclusively on spell-check.
Promote your blog. Link it to your website and other social media sites. Mention your blog in your brochure and in client interviews.
Request comments. The idea is to encourage dialogue. Don't be afraid of critical comments. Use them to improve your posts.
Make sure what you blog about won't get you fired. Don't do what a Delta Air Lines flight assistant (posted photos of herself in uniform and blogged as "Queen of the Sky: Diary of a Dysfunctional Flight Attendant"), Google product manager (disclosed corporate secrets on his personal blog) and Congressional assistant (blogged about her sex life as "The Washingtonienne") did. Their blogging got them fired.
If you do get fired, cash in on your notoriety. The Queen of the Sky appeared on The Montel Williams Show, started a Blogging Rights online petition and founded the Committee to Protect Bloggers. The Washingtonienne published a best-selling novel. The ex-Google guy started a popular new blog.
Do you have a blog? What works or doesn't work for you? What suggestions would you give a new blogger?
Sources:
Jay Reeves a/k/a The Risk Man has practiced law in North Carolina and South Carolina. Formerly he was Legal Editor at Lawyers Weekly and Risk Manager at Lawyers Mutual. Contact him at jay.reeves@ymail.com.