7 Ways to Practice "Great Law"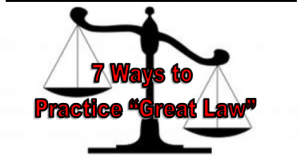 You might consider yourself a great lawyer, but are you practicing Great Law?
That phrase has a specific meaning. It arose in 2011, when a group of thought leaders from various fields – law, academia, technology, business, design – got together to imagine what the world might look like in 2023 and what that world would need from its lawyers.
After 15 months of study and discussion, they came up with a blueprint called Law 2023, which set out a list of technological, structural and entrepreneurial innovations that would give lawyers a decade's head start on their competitors.
Five years later, the predictions of Law 2023 are coming true.
"Law 2023 is proving to be a solid road map for where the best clients want to buy, the best talents want to work and the best leaders want to serve a greater good," according to the ABA Journal.
Attorneys who follow the Law 2023 road map should arrive at a destination known as Great Law.
"What's evolved is a new movement known as Great Law," says this commentator. "Great Law is leveraging the Law 2023 design principles to help law firms future cast their own organizations in ways that not only allow them to create more predictable and sustainable revenue but are re-energizing and engaging lawyers in the profession."
Seven Core Principles of the "Great Law" Movement
1. Technologies will enable lawyers to bill for real value. Law 2023 predicted that successful firms would use technology – analytics, artificial intelligence and software engineering – to come up with creative ways to boost client service and maximize work output. One IP firm, for instance, developed an online platform where companies can survey the market for new patent innovations. Previously, this research was performed by lawyers at an hourly rate. Now the client can do it directly, which frees up counsel to focus billable time on strategic planning and legal advice. Another firm that does education law offers an online compliance app that helps universities report campus violence as required under federal law. This reduces costs and builds strong client relationships.
2. Firms will develop offerings that transcend jurisdiction. Law firm networks and nontraditional legal service providers are reshaping the delivery of services and business products in ways that cross jurisdictional lines.
3. New methods of accountability will emerge. "More and more law firms are measuring success beyond traditional financial and profitability metrics," according to this source. Great Law values sustainability, tailored fee arrangements, flex time and a healthy firm culture.
4. Firms will tap new talent and open new practice pathways. New job titles, multiple career tracks and expanded recruiting are hallmarks of Great Law. "Recruiting for new talent includes technology experts, designers, account management professionals, pricing experts and other business advisory capabilities. Workplace standards become more flexible to attract and retain top talent."
5. Information access and/ transparency will push firms into hyper-specific markets. Great Law firms combine legal expertise with targeted business know-how. One firm, for example, revamped its practice departments into four best-in-class industry teams to address specific client needs in financial services, real estate, agribusiness and food, and sports and entertainment.
6. Firms will dive deeply into in-house research and development. These departments will explore new lines of business and open new ways to deliver legal services.
7. Firms will pay close attention to client experience. Great Law firms listen to their clients. They gather and analyze client feedback. Some have even developed client playbooks and protocols to ensure excellent client service from start to finish.
What do you think of these ideas? How do you practice Great Law?
To read more by Jay Reeves, check out our monthly Put Into Practice newsletter 
Sources:
· Law 2023 http://www.law2023.org/
· ABA Journal http://www.abajournal.com/legalrebels/article/moving_from_good_law_to_great_law/index.php?utm_campaign=sidebar