7 Tips for Success as a New Associate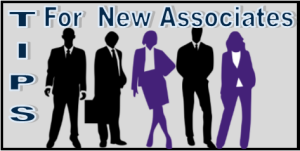 Congratulations! You landed your dream job as a new associate at a great firm.
You've earned the right to celebrate, so go out and do it. Then roll up your sleeves for your next assignment, which is to figure out your next step.
"Decide where it is you want to go and figure out the steps it takes to get there," writes Harrison Barnes of Law Crossings. "Is your goal to work in a corporation? Target your market. If working for Time Warner gets you juiced, put yourself in the path of media law assignments. Do you have an eye on a slot in the U.S. Attorney's office? Start getting some litigation experience under your belt."
In other words, start laying the foundation for a long, happy career – and start doing it on day one.
Decide where it is you want to go and figure out the steps it takes to get there.
To-Do List for New Associates
Find a mentor and hang on. Start your search in practice areas that interest you. Find a partner with qualities you admire. Ask them to be your mentor. Most senior lawyers will be happy to help. However, make sure to ask about the firm's policy in this regard. At some places, partners are prohibited from serving as mentors to associates who report directly to them. The idea is to have a guide, not a boss.
Stay positive. A good attitude goes a long way.
Continue networking. This doesn't end when you get a job offer, it just takes on a different meaning. Now you're networking not to get hired, but to grow your career. Make a point to introduce yourself to everyone in the firm. Attend your local bar meeting. Join a civic organization or leads group. Expand your professional reach beyond the walls of your office.
Take advantage of all training that's offered. "It's easy to blow off the periodic in-house training sessions offered by many firms," writes Barnes. "You're inundated as it is, so spending precious hours on topics with no bearing on your current projects may seem like a waste of time. Don't believe it. There's a reason the firm offers the sessions to help you develop your professional skills. What's more, they're often run by senior partners, so it doesn't hurt to get in their sights."
Let your light shine. Sure, you'll bring your A-game when you're interacting with your supervising partner. But remember that everyone is checking you out. Any one of them may impact your next career move.
Take care of yourself. You've heard the horror stories of hundred-hour work-weeks and crushing stress. You might think this is part of the initiation process. It isn't. Don't put success ahead of your health and sanity. Try to maintain balance in your life. Hang on to your hobbies. Cultivate relationships outside the law. Have fun.
Be a team player. You'll quickly learn that life at a large firm is not all about you. In fact, you might wonder at times whether it has anything to do with you. No matter. Make yourself a valuable team player. Be willing to ride the bench without complaining. Offer to pinch-hit when necessary. Support your team-mates.
What suggestions would you add to this list? Send us a comment.
Source: Law Crossing http://www.lawcrossing.com/article/900044703/Top-7-Tips-for-Succeeding-as-a-First-Year-Associate-How-to-Succeed-as-a-New-Associate-in-a-Law-Firm/?utm_source=WNW&utm_medium=Email&utm_campaign=t_15677--dt_20160202-cid_34018-Did_200549-ad_Seeker.Mined.Legal.Attorney-logid_14459539