5 Ways to Keep Clients Coming Back For More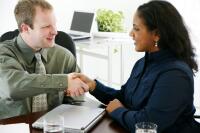 When you sit down with prospective clients in an initial interview, the odds are they know more about you than you know about them.
That's because they probably Googled you before coming into your office. They might have also looked you up on LinkedIn, Twitter and Facebook.
Or maybe they simply took the old school route and went around asking people about you.
The point is that prospects will come in with a preconceived image of who you are and what you can do for them. Building a successful relationship starts by meeting – or exceeding – those expectations.
5 Ways To Win Over Clients
Here are five ways to do just that:
Be consistent. Branding is an idea that has been pretty much beaten to death. Which does not mean it is unimportant. Everything you put out there for public consumption – your photo, bio, even the choice of colors on your website – should reinforce the professional image you want to project.
Keep it real. Do not try to be someone you aren't. Tech/social media expert Robin Block says authenticity is the key to professional success. "Your inner brand has to match your online brand. It is very important to combine them both," he writes online. "Be who you are in your personal life and be who you are in your professional life. Then make sure these fit together online. As technology and social media continue to grow, there has never been before such importance around transparency, which means really showing who you are."
Make it comfortable. Most prospects will be on edge when they come to you. And why shouldn't they be? They are probably there because of some stressful event in their lives. Or they may have a negative view of the legal system and lawyers. Make the experience as pleasant as possible. Offer them a beverage. Meet in a sitting area instead of a formal office. Warm up with chitchat before getting down to business.
Ask why they are there and what outcome they seek. You might think you know. You might be wrong. Ask why they have come to you and what they want to achieve. Their answers might surprise you.
Dig deep. Ninety percent of all pertinent information about a new case will be gleaned in the first few meetings. As the case progresses, answers become rote, insights grow stale and key ideas get buried under a mountain of minutiae.
Above all, listen –not just to the actual words that are spoken, but also to the underlying emotions. This is how you will discover what the client truly cares about.
And this is how you will keep them coming back for more.
Jay Reeves a/k/a The Risk Man is an attorney licensed in North Carolina and South Carolina. Formerly he was Legal Editor at Lawyers Weekly and Risk Manager at Lawyers Mutual. He wrote the short story "Nylon and Steel" that appears in the latest N.C. Bar Journal. Contact jay@lawyersmutualnc.com, phone 919-619-2441.
Source: Simply Communicate http://www.simply-communicate.com/news/power-first-impressions-online