5 tips for Crafting "The Client Experience"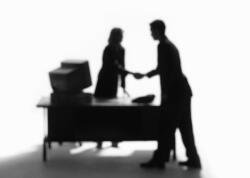 Does this sound like your morning routine? You stepped off the elevator and headed to your office where you dropped your bags and went off to make your first (but certainly not your last) cup of coffee for the day. Upon returning to your office, you sat down to read emails and listened to messages, all while thinking about how to fit in a client meeting before heading to court.
Our interactions with colleagues and clients seem scripted at times because we fall into certain habitual communication patterns. Falling into such a routine can make us less personable and create an unfavorable client experience.
Do you think of your daily interactions with your clients as simply a part of your work routine? Here's an idea—think less about your routine and more about crafting the client experience. Have you ever taken a moment to think about the client experience at your firm?
Here are some things to consider in crafting your firm's client experience:
Curb Appeal. Curb appeal goes beyond the rose bush outside of your office and the shiny new letters on the building.  Curb appeal is all-encompassing as it relates to the aesthetics of your firm. Your website is just as important as your walkway; many times this is where the client experience begins. Make sure your website is current, user-friendly and provides a vivid snapshot of your firm. Be sure to check your business cards and marketing collateral for brand consistency as well.
Communication. Returning calls, emails and taking meetings are all a part of your routine. Even with a seemingly never ending caseload; each client should be made to feel as if they are top priority. Be sure to respond promptly to clients and potential clients. Providing frequent updates is a great practice and makes clients feel more confident that you are on top of their case. Internal communication with your staff is important as well; it helps everyone do their job better and ultimately provide better service to your clients.
Have an attitude of gratitude. Your clients could have gone to any firm, but they decided to come to you. Be sure to always let your clients know you appreciate their business and are glad they have trusted you to handle their legal matter. Remember: hand written "thank you" notes go a long way. Client referrals are born out of small acts of kindness and gratitude.
Competence. Clients will have questions and they will expect you to have answers. It's important to know your clients' cases. Get in the habit of keeping updated notes on client files and frequently reviewing them. It's also important to never stop learning. As an attorney you are required to attend Continuing Legal Education  seminars that greatly benefit both you and your clients. Seek out educational opportunities from your local bar associations and other organizations within the legal community.
It's so easy, your entire firm can do it.  You are not solely responsible for crafting your firm's client experience; your support staff will play a huge part. Take some time to brainstorm with your staff about your client experience. What do you want your clients to see when they come to your firm? How do you want them to feel? What does your firm's client experience look like? Getting your entire staff to stop thinking in terms of routine and thinking about the overall experience of your firm will have a huge impact on client relations.
Your clients will be eager to share their experience with others!
Monisha Yowell is the Marketing Coordinator for Lawyers Mutual. Monisha connects Lawyers Mutual with our insureds and the legal community through the use of social media. You can reach Monisha at 800.662.8843 or monisha@lawyersmutualnc.com.