4 Ways to be Like Bruce Springsteen in Your Law Office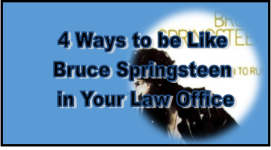 Here's some risk management math: when it comes to teamwork in the law office, one and one is not always two. Sometimes it's three.
But don't take my word for it. Ask Bruce Springsteen.
The Boss is doing a Broadway residency that combines songs and story-telling about his life in music. He describes how each talented member of the E Street Band became an integral piece of an amazing team. The secret, he says, is that in human relationships, one plus one equals three.
In other words, the whole is greater than the sum of its parts.
"Great artists like Springsteen didn't get where they are today without some help," says executive recruiter Roberta Chinsky Matuson, who attended one of Bruce's Broadway shows and wrote about it on LinkedIn. "They assembled a solid team of talented people, who made them better than they were on their own. They created their own equation for success, which is exactly what you must do if you want people to be singing the praises of your company."
Matuson says before forking out bucks to headhunters, try digging for gold in your own backyard.
"There may be non-degreed people in your company who are perfectly capable of taking on responsibilities usually reserved for those with college degrees, or people who are reentering the workplace with an abundance of experience," she writes.
And don't hog the spotlight. Shine it on your talented teammates, as Bruce did with his star sax man and best friend Clarence Clemons.
"Who in your organization can blow the socks off of his or her co-workers if just given a chance to toot their own horn in a sea of cubicles? These are the people you should be investing in, as they are your rising stars."
4 Ways to Build Your Own E Street Band
Here are tips for creating a great team in your law office:
Practice "intimacy through attention." Make whomever you're talking to feel like they're the most special person in the world. But not in a fake way. It has to be authentic. Look them in the eye. Listen instead of talking. Answer their questions clearly and directly. "Connect with one person at a time," says management expert Kevin Kruse. "In less than 10 minutes a day – and without spending a cent – you can have a law office filled with employees who will walk through fire for you. Simply go over to each one's desk, look them in the eye, and tell them how much you appreciate their valuable work. Try it for a week and see the results."
Show appreciation. This doesn't necessarily mean a pay raise. A simple attaboy might be even better. In fact, studies show employees value acknowledgment, recognition and growth opportunities more than money. Post a thank-you note on their door so everyone can see it. Make an "ABCD" card for someone who goes "Above the Call of Duty." Post a note on the firm's website. Honor them at the next staff meeting. Arrange to have their car washed.
Step into your staff's shoes. Want to really win an employee's dedication? Offer to do their job for an hour – or the whole day – while they relax. You'll gain new insights into the job they do and greater appreciation for how they do it.
Do unto your staff as you would have your staff do unto you. This is one of Richard Branson's mantras. "There's no magic formula for great company culture," he says. "The key is just to treat your staff how you would like to be treated." The personal touch is even more critical, says HR thought leaders like Brigette Hyacinth, in an age of AI and robotics.
What are some ways you build teamwork in your office? And what is your favorite Bruce Springsteen song?
Sources: