3 Keys to Better Client Service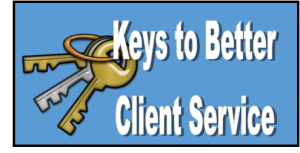 There are several factors one takes into consideration when determining what makes a firm successful. For some firms, success is measured by profit and accolades. However there is no profit or accolades if there are no clients. Providing exceptional client service should be high on your priority list. Your dedication to client service will set you apart from other firms.
What can you do to ensure that you're putting your best foot forward when it comes to your client service?
Communicate. Communication is key. Your client will want frequent updates regarding the status of their case. Be sure that you are in constant communication with your clients in order to ensure that they're aware of what is going on with the case and that you're actually doing the work you're being paid to do. It's a good idea to include a communication log in each client's file and develop a schedule in which you will provide updates. Be sure that you set the standard and guidelines for communication early in your attorney-client relationship. If you offer your cell phone number for emergencies, make sure you define what constitutes an emergency. Communicating consistently and effectively with you client will display your dedication to the case and professionalism.
Be empathetic. Clients will often come to you in distress looking for a solution to their legal matters. Empathy is a skill that not everyone has, but as an attorney being empathetic to your clients' unique situation will help build trust and help you provide better service to the client.
Be resourceful. Your job is to provide legal services. However, think of how impressive it would be to a client who is going through a divorce to have an attorney offer a "divorce care packet" filled with resources for individuals in their situation. Offering additional information and services to your clients will go a long way.
There are several ways you can add value to your legal services. It's a great idea to provide exit surveys or questionnaires to clients to see how you can improve and what areas you're excelling in when it comes to client service. A successful law firm thrives when it has happy clients. If you are constantly providing exceptional client service then you can rest assure that someone is constantly referring a family member or friend to your office.
Check out these posts for more tips on improving your client service:
Monisha Yowell is the Marketing Coordinator for Lawyers Mutual. Monisha connects Lawyers Mutual with our insureds and the legal community through the use of social media. You can reach Monisha at 800.662.8843 or monisha@lawyersmutualnc.com.