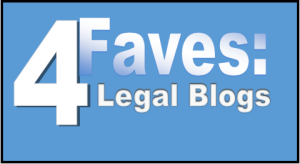 Blogs are becoming increasingly popular in the legal industry. We wanted to share some of our favorites with you.
1)      Attorney at work- This blog delivers exactly what its tagline says, "One really good idea every day." One might think that blogging every day is a bit excessive, however, this blog does an excellent job of providing valuable daily practice management tips. Posts are typically short and include links to outside sources. This blog also highlights products and has an online bookstore.
2)      Real Lawyers Have Blogs- This blog does an excellent job of highlighting current events in the legal community. One of my favorite features of this blog is the "Top 10 in Law Blogs" in which you get the top legal news of the day. This blog features really great social media tips as well.
3)      Above the Law- Above the Law stands out to me for its organization. The blog features posts on everything from law school, legal technology and in-house counsel. This blog has lots of great features such as "lawsuit of the day" and the "morning docket."
4)      The Technologist- This tech blog gives you great info on the latest info on drone law, robot document editors and everything in between.
Bonus: FindLaw features a list of blogs that allow you to access the latest legal news by simply selecting a topic. General interest, legal marketing, celebrity legal news and more! It's nice to have a network of blogs at your fingertips.
What are some of your favorite legal blogs?
In case you missed our "5 legal blogs to watch" list, you can find it here.