2022 Future Ready Lawyer Survey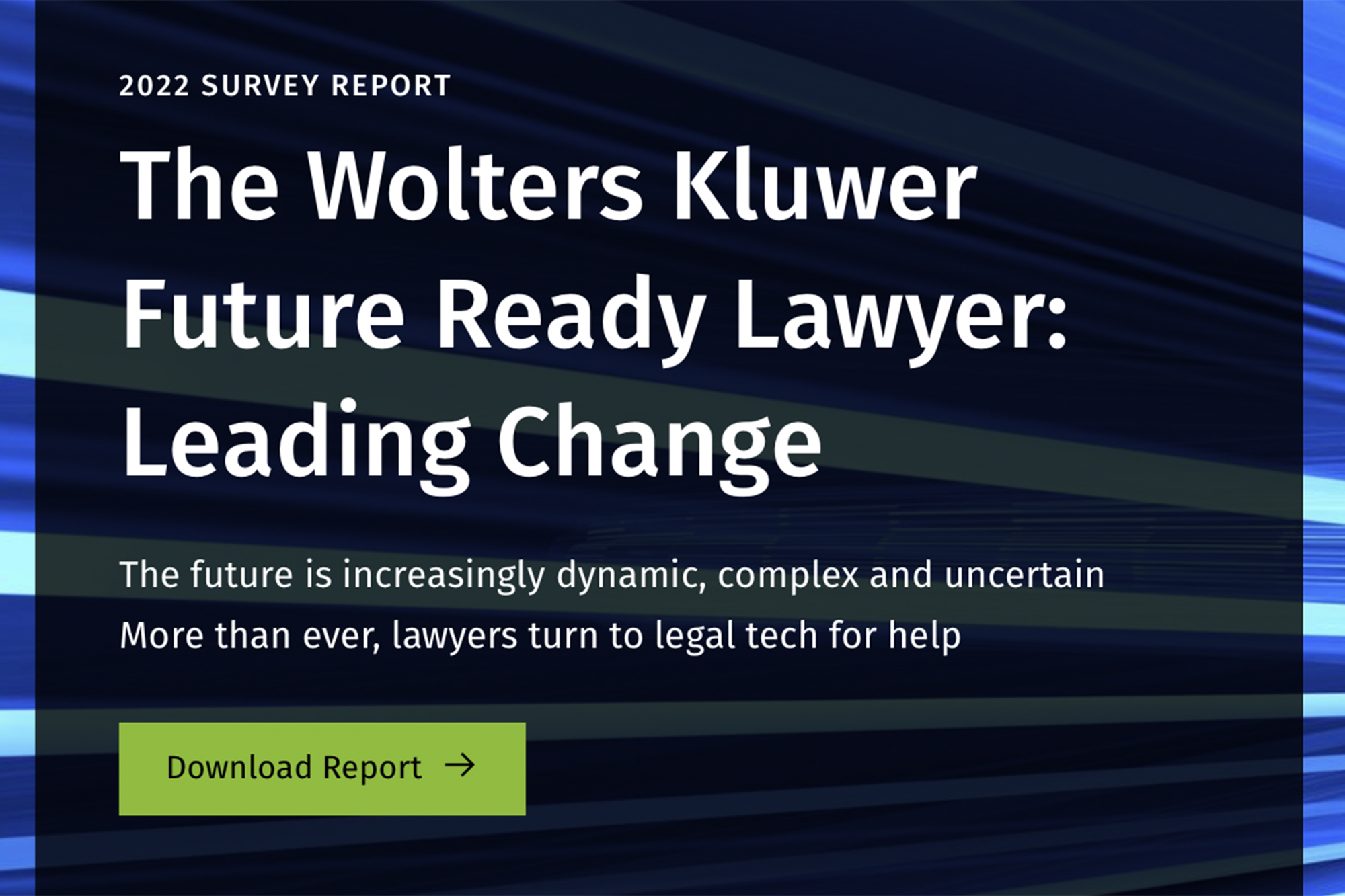 This news probably won't come as a surprise, but practicing law is getting harder all the time.
The usual suspects – market volatility, rising competition, economic uncertainty – have all been exacerbated by the pandemic. Which means the short-term forecast calls for continuing stormclouds.
Those are some of the findings from the The Wolters Kluwer Future Ready Lawyer survey of 751 legal professionals in the U.S. and Europe.
"Three trends will have the most impact across the legal sector over the next three years," writes legal tech expert Bob Ambrogi. "The increasing importance of legal technology, coping with the increased volume and complexity of information and meeting changing client and leadership expectations. But even as they recognize those trends, just 36 percent or fewer lawyers believe their organization is very prepared to keep pace with any of these trends."
The practice of law is always changing. But for lawyers in North Carolina, one thing has remained constant for nearly 40 years. Lawyers Mutual is here for you at every stage of your law career: from your first day on the job to your last day before retirement. Our Byte of Prevention blog features industry news, tips and valuable links on everything from work-life balance to winding down your practice. Our email newsletter "Practice Reimagined" brings cutting-edge insights straight to your in-box. And our skilled team of underwriters, claims counsel and risk management professionals are by your side when you need us most. Lawyers helping lawyers. It's who we are, and it's what we've been doing since 1977.
Wolters Kluwer Future Ready Lawyer Report
Here are some key takeaways from the Future Ready Lawyer Report:
77 percent of respondents said coping with compliance areas like environmental, social and governance (ESG) and data privacy create pressure. Fifty-six (56) percent of corporate lawyers and 45 percent of law firm attorneys report increased demands for ESG guidance over the past year. Most say their firms aren't fully prepared to deal with it.
In corporate legal departments, 84 percent report greater use of contract staff, non-legal staff and alternative legal service providers.
In law firms, 81 percent are using more third-party or outsourced resources, 78 percent are using more non-legal staff, and 77 percent say clients are increasingly resorting to client self-service.
Law firms that fully embrace technology are more profitable than those that don't. Sixty-three percent of tech-leading firms saw higher profits last year, as opposed to 46 percent of other firms.
The most important law firm technologies are document management, cybersecurity applications, encryption tools and digital court proceedings.
Eighty-six (86) percent of corporate lawyers and 70 percent of law firm attorneys say the Great Resignation of the past few years has had at least a somewhat significant impact.
Seventy (70) percent of corporate lawyers and 58 percent of law firm attorneys say they are very or somewhat likely to leave their current position in the next year.
2022 'Future Ready Lawyer' Survey Finds that Complexity of Information and Clients' Expectations Are Driving Greater Reliance on Tech | LawSites (lawnext.com)
Why choose Lawyers Mutual for your financial protection? One reason is experience. Lawyers Mutual has been in business since 1977 and insures more than 8000 lawyers in North Carolina. We've been providing continuous protection from professional liability to NC lawyers longer than any other insurance company. Another reason is stability. The company's financial strength is absolute. Since 1999, Lawyers Mutual has paid dividends fourteen times, with more than $8 million dollars returned to policyholders since 2011. Want even more reasons? Visit our website, give us a call, or ask a colleague why Lawyers Mutual is the smart choice for liability coverage.