2016 Marketing Must Haves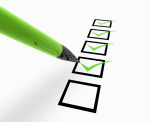 2015 is coming to an end. It's time to start thinking about a new year. Did your marketing miss the mark? Were there items on your list that you just didn't get around to this year? Here are some marketing must haves to implement in your marketing plan for 2016.
Hop on the social media train. If you aren't active on social media you have been missing out on a major opportunity to promote your firm and engage with potential clients and other industry leaders. According to a report on socialmediatoday.com, social media users have risen by 176 million in the last year. 365 million active mobile social users have been added over the same time span for a total growth of 541 million. Those numbers should raise an eyebrow! Take some time and think about which social media platform works best for your firm. The key lies in quality, not quantity. Here are tips for developing content for your social media.
Press Record. Videos are a multifaceted marketing tool. The great thing about video is its ability to translate well on all marketing platforms. Social media is an excellent place to showcase your videos as well as your website. Videos are also a great way to take your email marketing to the next level.
Whether you're looking to highlight your attorneys, share new services offered by your firm or simply wish your clients a "Happy New Year," videos are a perfect way to deliver the message. Forbes offers some great tips on 5 things your video marketing strategy should include.
Get your website right. Your website is often the first stop potential clients make in their search for an attorney. What does your current website say about your firm? As yourself these questions when evaluating your website:
1)      Is my website easy to navigate?
2)      Is my website mobile friendly?
3)      Is my website aesthetically pleasing? 
4)      Is my contact information easy to find?
5)      Is there a call to action?
Asking yourself these questions will give you a great place to start when thinking about your 2016 plan and easing those website woes.
Put it in an infographic. Your clients constantly have information thrown at them. How are you going to stand out from the competition? People are interested in what you have to say, but sometimes it's the delivery of the information that misses the mark.
Infographics are a quick and creative way to present valuable information. Check out these 9 Awesome Reasons to Use Infographics in your content marketing.
Be the Brand. It's important to remember that you're the greatest asset to your firm's marketing plan. The one thing that other firms can't offer is YOU. Develop a personal marketing plan for 2016. Are there organizations that you could get involved in? Have you previously turned down speaking engagements that would have helped position you as a thought leader? Think about things you want to accomplish to make yourself more marketable and the ROI for you and your firm will be great!
For more marketing tips, be sure to check A Byte of Prevention blog for our Marketing Monday posts.
Monisha Yowell is the Marketing Coordinator for Lawyers Mutual. Monisha connects Lawyers Mutual with our insureds and the legal community through the use of social media. You can reach Monisha at 800.662.8843 or monisha@lawyersmutualnc.com.