2012 Holiday Wish List for Lawyers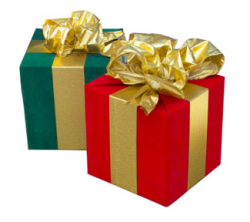 The holiday season is here.  It's time to take to the malls or the internet in search for the perfect gift for the lawyer in your life.  
We have compiled a list that includes a couple of "hot ticket" items, the necessary and the plain fun gifts.
 One hot ticket item for the season is a tablet computer.  The Kindle Fire HD and the Apple iPad mini are amazing tablets. They both are small in size, have HD screens, apps, Wi-Fi, and are e-readers.  The Amazon Kindle Fire HD cost is $130 less that the iPad mini. If you decide to purchase a tablet, consider getting a desktop charging station.  Almost every lawyer has multiple gadgets that need to charge during the day.  A desktop charging station doesn't add clutter to their desk and that helps keeps every gadget in one place is a serious bonus.
A new briefcase is always a great gift.  This Leather Legal Briefcase was made with the lawyer in mind.  Legal pads fit with ease, there are compartments for phones, pens, card holders and even a built-in three ring binder. Another practical gift is the Ergo Desk.  The Ergo desk helps to minimize eye strain, muscle and postural fatigue.
If your lawyer is into games, legal themed board games are a good choice. The billablehour.com has great games for example: Stump your lawyer, The Law Suit and Passing the Bar to name a few. 
A legal theme chess set would look great in any office and can be purchased at approachthebench.com. 
For the golfer, consider the distance calculating talking golf caddy. This palm-sized GPS unit verbally tells golfers how far they are from the green to improve club and shot selections.  The caddy automatically recognizes the golf course and hole you are playing from its pre-loaded database of 35,000 courses.
We hope that this list inspires you to think outside the box and shop with new ideas on what to get the lawyer in your life.  Happy shopping.
Bethany Schuelke is the Marketing Coordinator at Lawyers Mutual. She manages Lawyers Mutual's social media channels and educates legal professionals on integrating social media into their business practices. Contact Bethany for information regarding social media best practices at 800.662.8843 or bethany@lawyersmutualnc.com.