100 Years Ago: A Tribute to Miss James Perry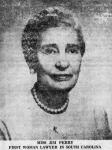 100 years ago, a pioneering native of South Carolina earned a law degree from the University of California at Berkeley – and began making history.
She was James M. Perry. Her unlikely first name foreshadowed the ground she would break when a year later she gained entry into what had formerly been an all-male club.
"Women shall be allowed to practice law within the State of South Carolina under the same rules, regulations, and conditions prescribed for the men of this state," according to Act 441, signed into law February 14, 1918 by Governor Richard I. Manning.
And with that stroke of a pen, James M. Perry – known by the many who loved and admired her as Miss James – became the first woman admitted to the practice of law in South Carolina (she had previously been admitted to practice in California).
Keep in mind this came two years before women were allowed to vote.
A Life of Greatness
Perry was born in 1894 and named after her father, Professor James M. Perry, who taught at Greenville Women's College. She started her law career as a clerk with Haynsworth & Haynsworth in Greenville and was named a partner in 1937 – in the process smashing through another ceiling by becoming the first female partner in a South Carolina law firm.
During her years at Haynsworth, Perry, Bryant, Marion and Johnstone, she won numerous accolades for her civic contributions as well as her legal work. She helped found the Greenville Business and Professional Women's Club and was named the Greenville-Piedmont's Professional Woman of the Year in 1961.
She loved nature and animals and helped start the Greenville Humane Society. She received the Sullivan Award from Furman University for her work for the betterment of her community. In that granting ceremony she was described as "an inspiration to women everywhere as they reach toward the full and rewarding life."
"Cautious, careful people, always casting about to preserve their reputation, can never effect reform." Susan B. Anthony 
 "Knowing what must be done does away with fear." Rosa Parks
Got an inspirational story of a law pioneer? Please share it with us.
Source: University of South Carolina http://www.law.sc.edu/memory/1964/perrymjm.shtml
 http://www.findagrave.com/cgi-bin/fg.cgi?page=pv&GRid=8481581&PIpi=7756320