10 Tips for File Management and Retention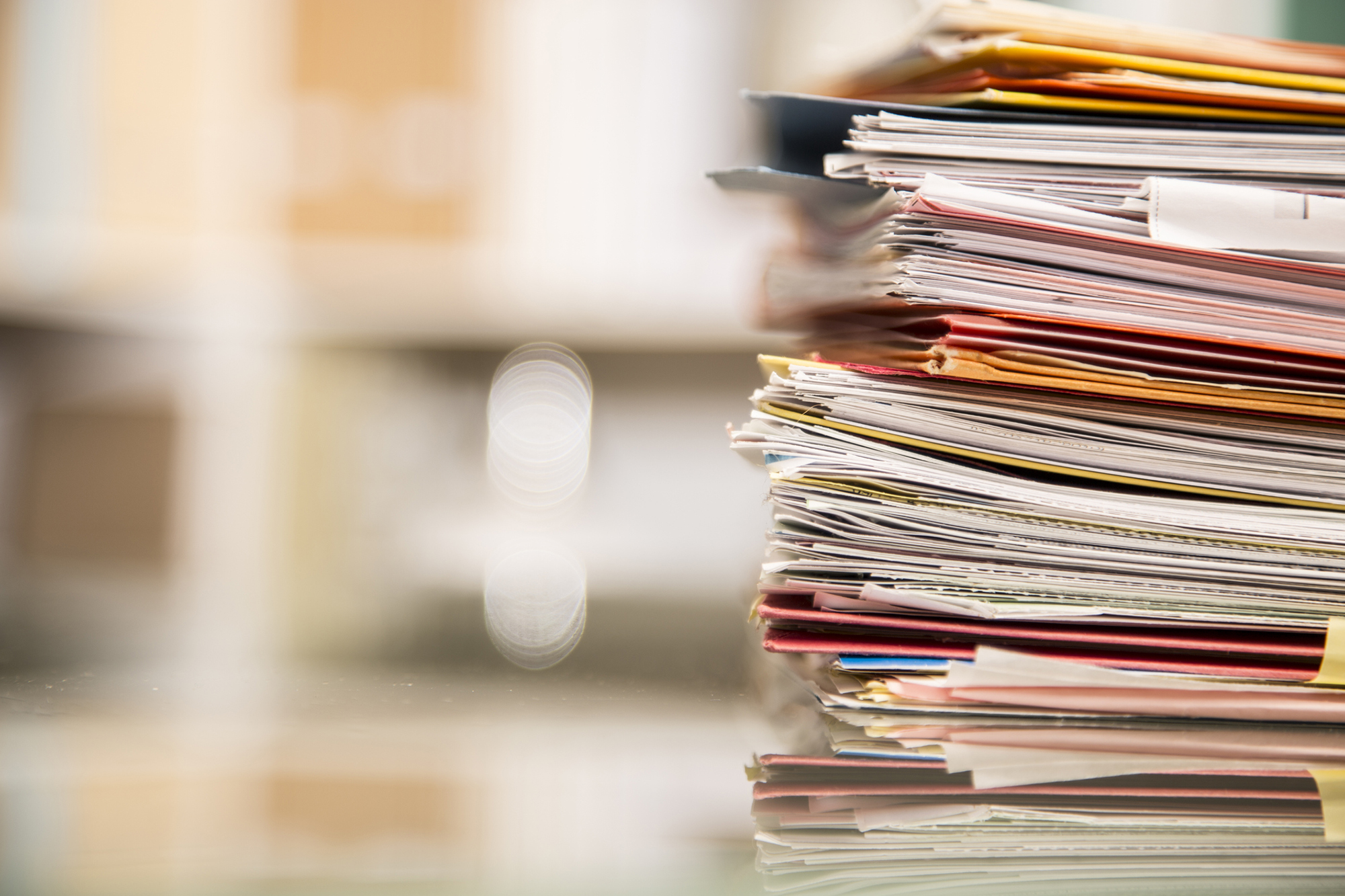 Files, files, everywhere are files – both digital and paper. How does a busy lawyer manage, organize and safely dispose of them all?
The starting point is to have a written set of procedures.
"Two ever-present elements in any legal practice are documents and time constraints," says Lawyers Mutual. "Adopting a firm-wide policy for file management and retention can save time and money and reduce the risk of malpractice claims."
The benefits of a File Retention Policy include:
Prevents the loss of essential documents such as pleadings, correspondence, work product and other materials.
Saves time and conserve resources.
Allows for the smooth transfer of the case if the representation needs to be reassigned to another lawyer.
Protects client confidentiality by preventing those without a legitimate interest from accessing the file.
Reduces the risk of missed deadlines (one of the most frequent causes of legal malpractice).
Download a free copy of Lawyers Mutual's File Retention Handout.
Why choose Lawyers Mutual for your financial protection? One reason is experience. Lawyers Mutual has been in business since 1977 and insures more than 8000 lawyers in North Carolina. We've been providing continuous protection from professional liability to NC lawyers longer than any other insurance company. Another reason is stability. The company's financial strength is absolute. Since 1999, Lawyers Mutual has paid dividends fourteen times, with more than $8 million dollars returned to policyholders since 2011. Want even more reasons? Visit our website, give us a call, or ask a colleague why Lawyers Mutual is the smart choice for liability coverage.
10 Tips for File Retention & Destruction
The following pointers are from the Lawyers Mutual's File Retention Handout.
File Set-Up. Consistency should be the key to every system. The overall structure of the file management plan should be uniform throughout the firm. Files should be named consistently using client name, an assigned number, or a combination of both. The interior of the file should contain logical subdivisions such as client information, correspondence, medical records (if applicable), discovery, pleadings, invoices, research, attorney notes. Different practice areas may use other subdivisions as needed for their specific practice.
Work product. Attorney notes and other work product documents that belong to the firm and will not be turned over to the client at the end of the representation should be filed in a separate section or folder. This allows materials belonging to the firm to be easily removed if the file needs to be turned over immediately.
File management. Other considerations: storage, check-out procedures, control, and access.
Staff training. All staff members should be trained on the file management system, and new hires should receive training as a part of their orientation.
New matter, new file. Every new matter, even those involving existing clients, should receive a new file. It is also important to open a file for potential clients that never retain the firm's services in order to create a complete record for conflict checks. Any time the firm is consulted in a professional capacity, pertinent information must be entered into the database and a non-engagement letter should be sent.
Electronic records. Most documents today are electronic at some point in their lives. Unless you created it with a typewriter, it is probably electronic. When you scanned, faxed, or emailed the document, it became electronic. If you received it in an email, as an attachment, or on a CD, it is electronic.
Converting Files from Paper to Electronic. It is generally best to start the process with your active files. Most active cases today are a combination of electronic documents and paper documents.
Three rules for active cases: 1. Scan anything paper related to the case to PDF. Have a procedure in place to make sure this happens in an organized and complete manner. 2. Shred the paper. Once the document is electronic, you can print it again if it becomes necessary. 3. Make sure the documents are searchable. You will want to be able to find documents later, so you need to make sure they are searchable today.
NC Ethics Opinion RPC 234. This opinion says that with the exception of original documents with legal significance, a file can be stored exclusively in electronic format.
Move to closed status. After scanning active files, you can move on to the closed files that remain onsite in your office.
For more pointers, see the LM File Retention Handout.
SOURCE: FileRetention_Handout.indd (nmcdn.io)
Everyone makes mistakes. When it happens to you, Lawyers Mutual has your back. For nearly half a century, Lawyers Mutual has been the smart choice for professional liability coverage for North Carolina attorneys. We cover the state from Murphy to Manteo. We insure large firms, solo practitioners and everyone in between. We help new lawyers enter the profession with confidence, and we help keep seasoned veterans safe and successful. The numbers speak for themselves. Lawyers Mutual has been in business since 1977, making us the only insurance carrier to provide continuous protection over that period. Today we insure more than 8000 lawyers in North Carolina. Most of them will stick with us until they retire. Why? Because they know we are here for them today and will be here tomorrow, bringing protection and peace of mind in turbulent times. Visit our website, give us a call, or ask a colleague why Lawyers Mutual is the smart choice for liability coverage.