10 Strange Christmas Lawsuits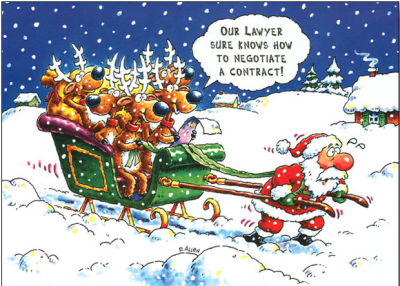 It wouldn't be Christmas without litigation.
So here's a quick quiz. Which of the following 10 lawsuits are legitimate – and which are fiction. The answers appear below.
1. An Australian crooner sued Sony Music for royalties over the 1982 song "Christmas in Dixie" by the country music band Alabama. Allan Caswell claims a tune he penned ("On the Inside"), which was a smash Down Under, has a similar if not identical melody to "Christmas in Dixie." The lawsuit is pending.
2. The owner of a beagle dog in Columbia, South Carolina sued a local theater group staging a production of "A Charlie Brown Christmas" for unlawful infringement. The pet owner claimed the thespians misappropriated a photographic image of her Snoopy look-alike in its advertisements.
3. The owners of Greenberg Smoked Turkeys brought a copyright infringement lawsuit against a competitor in Texas. Greenberg alleged three paragraphs of preparation instructions that came with its turkeys had been ripped off and posted on the website of its gobbling rival.
4. A mother in Pocatello, Idaho sought an injunction to prevent the town's annual Holiday Parade from going forward because her daughter had been unfairly passed over for Snow Queen. She lost and the parade was held as scheduled.
5. Restaurants in London that serve traditional British plum pudding – complete with the occasional prize of a silver coin or lucky token cooked inside – are asking diners to sign liability waivers giving up their right to sue for chipped teeth, sliced tongues and other mouth injuries.
6. Neighbors of a Milwaukee, Wisconsin man who erected a 20-foot Santa Claus built entirely out of beer cans, automobile tires and carpet remnants claimed the structure violated the subdivision's restrictive covenants.
7. Inmates in an Arizona jail brought a lawsuit against the sheriff's office, claiming that being forced to listen to "Frosty the Snowman" and "Feliz Navidad" for 12 hours a day was cruel and unusual punishment.
8. A man dressed as a reindeer is suing for personal injuries after being shot by a bow-hunter while crossing a field following a holiday pageant.
9. The actor who played bully Scut Farkus in A Christmas Story has sued to collect his share of royalties from sales of a calendar and action figures based on the popular 1983 film.
10. The winner of a fruitcake-eating competition in Orlando has sued contest organizers after being rushed to the hospital and undergoing diverticulitis surgery.
Answers: The odd numbers are true. The even numbers are false. 
Walking in a Winter Wonderland, indeed.
Jay Reeves a/k/a The Risk Man is an attorney licensed in North Carolina and South Carolina. Formerly he was Legal Editor at Lawyers Weekly and Risk Manager at Lawyers Mutual. He has never even once been chosen Snow King. Contact jay.reeves@ymail.com, phone 919-619-2441.