10 Important Ethics Rulings on Conflicts of Interest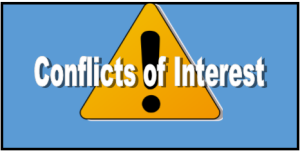 Few ethics concepts are harder to grasp than conflicts of interest.
In fact, the subject is so complex it can't be covered in a single rule. The NC Rules of Professional Conduct has at least eight – count 'em, eight – conflicts rules:
Rule 1.7 – Current Clients
Rule 1.8 – Current Clients/Specific Rules
Rule 1.9 – Former Clients
Rule 1.10 – Imputation of Conflicts
Rule 1.11 – Conflicts Rules for Current and Former Government Employees
Rule 1.12 – Former Judges, Arbitrators, Mediators
Rule 1.13 – Representing an Organization
Rule 1.18 – Prospective Clients
And that's not counting the various other rules (confidentiality and communication, to name two) that are intertwined with conflicts of interests.
It can be mind-bending to try and sort it all out.
An Illustrative Case
One scenario that is particularly tricky is when you are a go-to lawyer in a given field. Clients in that field seek you out. As a result, you might find yourself counseling clients who are in competition with one another.
A case in Florida is illustrative. There, an insurance company hired a law firm and an accountant for tax and regulatory advice on a new casualty line it was about to launch. The insurer also hired an outside marketing firm.
Subsequently, the owner of the marketing firm started a new business selling virtually the same product. He also retained the same law firm and accountant. The insurer sued the law firm for malpractice, alleging breach of confidentiality and conflict of interest.
 "While the case is still in the early stages of litigation, it raises a fundamental problem," writes Professional Liability Matters. "Years of exposure to certain types of clients provides inside information on what works and what doesn't. While it is certainly helpful and acceptable to provide general advice based on this experience, professionals have to be wary of providing specific information about other clients. In addition to potentially breaching ethical standards, these actions can disrupt a market and cost other clients significant revenue. When profits drop, lawsuits are not uncommon and it is important that attorneys and accountants do not place themselves in the cross-hairs by walking too close to this ethical line."
The bottom line: even if the firm provided only general advice to both clients and disclosed no confidences of one to the other, it looked bad. And in the world of legal ethics and malpractice, perceptions count.
See for example 2008 Formal Ethics Opinion 2, which holds that "a lawyer is not prohibited from advising a school board sitting in an adjudicative capacity in a disciplinary or employment proceeding while another lawyer from the same firm represents the administration; however, such dual representation is harmful to the public's perception of the fairness of the proceeding and should be avoided."
10 Important Conflicts Opinions
Here are 10 other key NC ethics opinions issued over the past 10 years regarding conflicts of interest:
Sources: