10 Films About Supreme Court Justices You Should See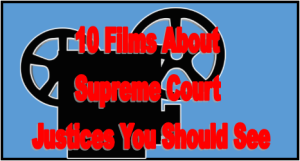 The news that Supreme Court Justice Ruth Bader Ginsburg will be played by Felicity Jones in the upcoming biopic On the Basis of Sex was met with excitement in Hollywood and courtrooms alike.
Felicity Jones is riding a huge wave of popularity. She starred in Rogue One: A Star Wars Story and earned a Best Actress nomination before that. She will bring an enormous boost of star power to the film, written by the nephew of Ginsburg's late husband.
Looking for some viewing pleasure during your final summer getaway or Labor Day vacation? Here are 10 fun film or television portrayals of Supreme Court Justices:
1. Swing Vote (1999). This mostly-forgotten TV movie posits an alternate reality in which Roe v. Wade is overturned, and Andy Garcia is an Associate Justice who must cast the pivotal vote. Also on the bench are Harry Belafonte (Day-O), Ray Walston (My Favorite Martian), Bob Balaban, Milo O'Shea, Robert Probsky, Kate Nelligan and James Whitmore.
2. The Simpsons ("Itchy & Scratchy: The Movie" episode 1992). Bart Simpson becomes Chief Justice of the US Supreme Court.
3. First Monday in October (1981). This film – starring Jane Alexander as fictional Justice Ruth Loomis – was released the same year Sandra Day O' Connor became the first woman on the court.
4. Talk of the Town (1942). In this classic starring Cary Grant, Jean Arthur and Ronald Colman, a radical fugitive takes refuge at a home being rented by Supreme Court nominee Colman. He is seated as an Associate Justice in the final scene.
5. The Pelican Brief (1993). Julia Roberts vehicle with a twisty plot involving the assassination of two fictional Supreme Court Justices.
6. The Supreme Court (PBS 2008). Detailed and handsome production, as you would expect.
7. Woman in Gold (2015). Helen Mirren stars as a dogged litigant in a bitter court fight to determine the legal ownership of stolen Nazi treasure.
8. Loving (2016). This dramatization of the lives of Richard and Mildred Loving, plaintiffs in the groundbreaking 1967 Supreme Court interracial marriage case, won a Best Picture nomination.
9. The Confirmation (2016). Drama ensues at the 1980s Senate confirmation hearing of Clarence Thomas.
10. Gideon's Trumpet (1980). Henry Fonda plays the indigent title character who fights all the way to the Supreme Court for his right to appointed counsel.
What movies would you add to the list?
Source: ABA Journal http://www.abajournal.com/news/article/rogue_one_actress_will_play_ruth_bader_ginsburg_in_upcoming_movie