$1 Million Awarded for Courtroom Graphics Expense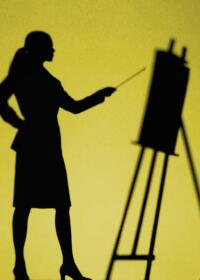 A picture may be worth a thousand words – and in the courtroom it might bring a million dollars.
That's the lesson from Nevada, where a Hong Kong businessman was awarded $1.03 million to cover the expenses for his six-week trial of a business dispute that ended in May. The sum is 10 percent less than he asked for but 90 percent more than the other side argued was reasonable.
"In taking 39 minutes to deliver his ruling from the bench, Clark County District Judge Rob Bare included a ringing endorsement of the computer graphics and document management that have become increasingly common in complex trials, particularly involving business matters," according to a story in the Las Vegas Review-Journal. "Slightly more than half of [the plaintiff's] bill after winning his trial — $593,000 out of $1.17 million — was for various slides that helped explain his case and the cost of hiring a trial technician to ensure hundreds of pieces of evidence popped up on big-screen monitors on cue."
The judge said the jury appreciated not having to sift through thick binders of documents. And the winning attorney said without the digital display the proceedings would have gotten bogged down in a swamp of paperwork.
But opposing counsel objected to awarding big bucks for what he said was simply a high-tech dog-and-pony show. He said the plaintiff's financial outlay did not meet Nevada law's standard for awarding "reasonable and necessary" expenses to the winner of a trial. And he told the press that for "hundreds of years" jurors have done just fine reading words on paper.
"Jurors can make decisions without the benefit of graphics and without trial technicians putting graphics on a screen," he was quoted in the newspaper as saying.
The expense award was added to the $100 million the plaintiff won in his lawsuit against the Las Vegas Sands hotel empire. The Sands is expected to appeal.
Give The People A Show
An audience is better able to grasp and retain information that is seen and heard at the same time.
And in today's plugged-in, Google-glassed world where pictures speak volumes and brevity rules, a punchy and graphic display can mean the difference between winning and losing.
This is especially true when the info is complex – as was the case in Nevada.
The award included reimbursement for:
Courtroom graphics
Videotaped depositions
Synchronization of written displays with audio clips, much like movie subtitles
The fact that the plaintiff faced enormous legal and logistical challenges in proving his $328 million claim against a high-rolling enterprise on the Strip justified spending so much on presentation, the court said.
There were some expense items that the judge turned down. He refused reimbursement for $19,000 in photocopies, faxes and FedEx charges, as well as $104,000 for travel and hotel expenses.
Even so, the message was clear: the sophisticated – and expensive – courtroom display was worth the money.
"I think the judiciary should encourage this type of professional, high-caliber type of presentation," the judge said.
But before you start shelling out big bucks on a laser light show for your next traffic ticket trial, remember that substance trumps style every time. And even though you can dress a dog in a tuxedo, it is still a dog.
Jay Reeves a/k/a The Risk Man is an attorney licensed in North Carolina and South Carolina. Formerly he was Legal Editor at Lawyers Weekly and Risk Manager at Lawyers Mutual. Contact jay@lawyersmutualnc.com or phone 919-619-2441.
Source: Las Vegas Review-Journal http://www.reviewjournal.com/business/casinos-gaming/judge-oks-103-million-plaintiffs-expenses-las-vegas-sands-trial#!