NCBA President's Words Are Fitting Coda for 2020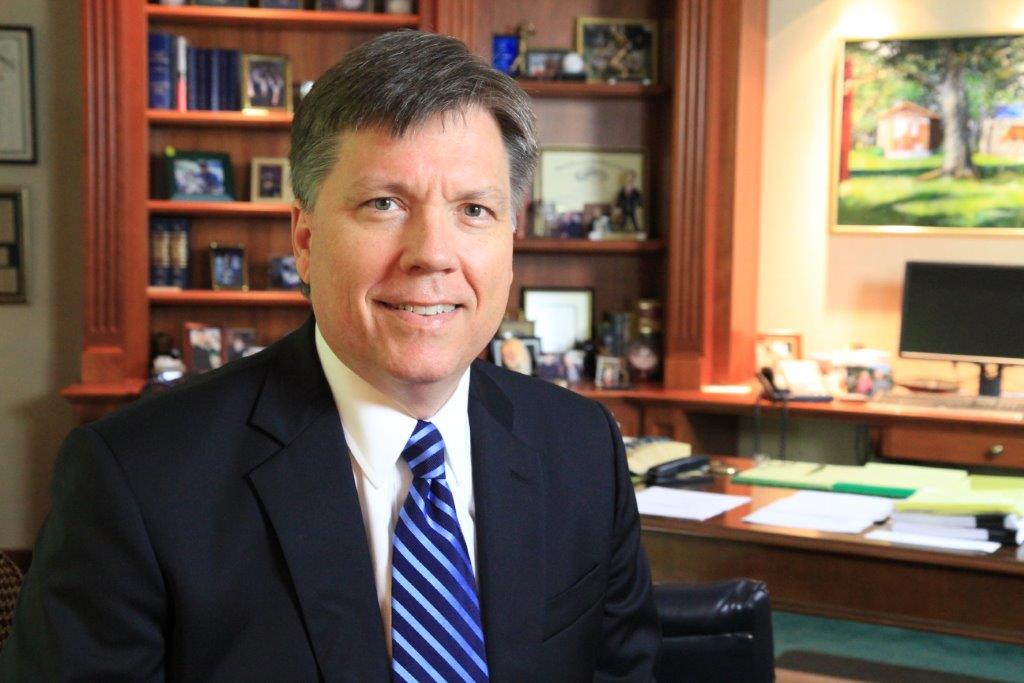 Service to others is the highest calling of every lawyer, says the president of the NC Bar Association.
And after the challenges, turmoil and heartbreak we've all experienced in 2020, that service will be needed more than ever in 2021.
Mark Holt of Raleigh was installed last summer as the 126th president of the North Carolina Bar Association. In his acceptance address, he emphasized themes of service, civility and community. He also quoted Rev. Howard Thurman, a mentor to Dr. Martin Luther King, Jr., who said: "Don't ask what the world needs. Ask what makes you come alive and go do it."
"Come alive with us in the year to come as we rise together to meet the challenges of our time; seeking justice and serving those who need us," said Holt in his speech. "This is our noble calling and our sacred responsibility. Sharing this journey with all of you is an honor and a privilege."
Holt's address is a coda to 2020 and a clarion call for 2021. Read it in full on the NCBA website. Highlights appear below.
Stay safe and successful by maintaining professional liability coverage with Lawyers Mutual. We've been protecting North Carolina lawyers since 1978.
Excerpts from NCBA President Holt's Installation Address
On how the pandemic changed everything. "We welcomed 2020 together, eagerly poised for the future. And then, our world changed as we began to face some of the most serious crises of our lives. Before this occurred, I considered three goals for our bar year together: to build community, model civility and serve others. As we now face historic challenges, I still believe these aspirations should guide us in this time of change."
Seeing lawyers at their best: "During the past year, I witnessed the very best of our profession: lawyers valiantly fighting for their clients and working diligently through difficult circumstances. Whether drafting contracts, obtaining an emergency court order, or rendering counsel at critical moments in the lives of others, North Carolina attorneys and legal professionals met their responsibilities to those who depend on them, even as many faced economic hardships and transitioned to remote work."
Lawyers as essential workers: "As COVID-19 began, the North Carolina Bar Association worked alongside the North Carolina State Bar to assure a designation of legal services as essential, allowing individuals, businesses and institutions to have their legal needs met during the pandemic. In these critical times, we are grateful to serve as a resource for all three branches of state government. Four North Carolina Bar Association sections provided research and drafting of legislation allowing video notarization and witnessing of legal documents during emergency conditions. Our advocacy for these and other changes in our laws helps North Carolinians continue to execute important documents such as health care directives and facilitates ongoing business transactions vital to our state's economy."
Other COVID efforts. "The North Carolina Bar Association provides online resources, legal webinars and timely updates about emergency orders and operations. Our Center for Practice Management supplies technology support and consultations to lawyers. Our Young Lawyers Division led a virtual wellness competition and raised over $150,000 for local food banks across the state."
On the cause of social justice. "Acts of racial violence causing tragic deaths of Black individuals have led our nation and our state into a vitally important self-examination regarding race and racism. As a profession that seeks justice, we must listen to the voices of pain. We must learn from the messages of protest. And we must seek a system of justice that works equally for all, while opposing racism and continually promoting our core value of diversity and inclusion across our profession. As we engage in critical conversations addressing the systemic problems around race, we are called to model the very best example of civility by offering grace, respect and our best selves to each other as we work together for justice and equality."
Jay Reeves is author of The Most Powerful Attorney in the World. He practiced law in North Carolina and South Carolina. Now he writes and speaks at CLEs, keynotes and in-firm presentations on lawyer professionalism and well-being. He runs Your Law Life LLC, which helps lawyers add purpose, profits and peace of mind to their practices. Contact jay@yourlawlife.com or 919-619-2441.