Time For A Real Estate Risk Management Spring Cleaning
Generally, Covid-19 has negatively impacted most folks' lives, the economy and many law practices. Yet, I am hearing from real estate lawyers from across North Carolina that their residential and commercial practices are busier than ever to the point that some attorneys have mentioned that they have had to turn away work in order to maintain quality control. At Lawyers Mutual, we are beginning to see an uptick in easily preventable real estate claims which I suspect may be caused by this increased workload. As the economy recovers over the next few months with low interest rates during the traditional residential summer moving months, your workloads will continue to increase, as will the chances of you falling victim to an easily preventable error. This appears to be a good time to have a refresher of some basic risk management techniques before the Spring/Summer busy season kicks in.
REVIEW THE WORK OF SUPPORT STAFF - Do not spend all your time running from closing ceremony to closing ceremony while allowing the nuts and bolts of the transactional process to run itself by support staff without your adequate review of their work. Failure to take the time to review the file can lead to staff (or the attorney) overlooking conflicting instructions concerning the disbursement of realtor's commissions which is not caught until after closing. Similarly, proper disbursement of net proceeds to an estranged couple can be missed. Make sure that details which support staff may think are unimportant are still brought to your attention, such as returned premium checks for home-owners insurance.
USE AN ENGAGEMENT LETTER - Many of these risk management issues can be addressed up front in the real estate transaction if an engagement letter is used. Probably the greatest benefit for a real estate attorney to use an engagement letter is to meet ethical obligations under RPC 99 to disclose to the client that you will be tacking to a prior title insurance policy when searching title. Not only does the engagement letter help you meet the ethical disclosures of a limited title search, but the letter also provides evidence of a defense if a title issue arises where the title problem was created prior to the start date of your limited title search. Recently Lawyers Mutual was able to obtain a good result in a commercial real estate claim because one of our defenses was that the attorney had disclosed to the buyer in the engagement letter that a limited title search would be performed. Also, as wire fraud continues to be a problem, the engagement letter is becoming increasingly beneficial in disclosing to the parties your firm's policy and process for handling wire transfers. After the party has fallen victim to the wire fraud, the letter provides evidence that you asked the party to first contact your office to verbally confirm any emailed wiring instructions before the client initiates the wire transfer.
USE A SURVEY WAIVER - Since the title companies have been providing survey coverage to lenders without a survey, more and more transactions are closing without obtaining a survey. Surveys are also often skipped in purchases of raw land that are to be developed later. Surveys are often skipped when the purchaser is a real estate investor who is paying cash with intentions to rehab the property then resell with the investor wanting to hold down acquisition costs. Regardless of the reason, that does not mean you should not recommend that a survey still be obtained in all transactions. What the survey waiver does is to document that you have advised the client to obtain a survey and they have knowingly decided that regardless of your recommendation, not to obtain a survey. Note that many of the recommendations in this article are basically to provide you with documentation of a defense later if a problem arises in a transaction. Even if you verbally recommend that a client obtain a survey and the client verbally declines at closing but then denies that you ever made that recommendation once the overlapping issue arises, that still creates an issue of fact which means the malpractice lawsuit could go all the way to the jury to decide the "he said, she said" issue.
USE A TITLE INSURANCE WAIVER - Similarly, you should always recommend title insurance for your client and if they refuse, obtain a title insurance waiver similar to the survey waiver. Note that a primary benefit to the insured under a title policy is that the title company provides the insured a defense to any title litigation which arises after closing. Again, without that waiver in your file, the client may point the finger at you for not recommending title insurance once that client is a defendant in a quiet title action or similar real estate litigation. Without that waiver in the file to assert as a defense to any malpractice accusation, YOUR malpractice policy and YOUR deductible are often triggered to become the client's de facto title policy in a claims repair/mitigation effort to hopefully avoid a later malpractice lawsuit if the real estate litigation is not successfully defended.
COMPLY WITH THE SAFE HARBOR ENDORSEMENT OF YOUR POLICY CONCERNING COVERAGE FOR WIRE FRAUD - Surprisingly, even though this endorsement has been part of your LML policy since 2017, we are still discovering that attorneys are not complying with the requirements of this endorsement. IF YOU DO NOT COMPLY WITH THE REQUIREMENTS OF THIS ENDORSEMENT, YOU WILL NOT HAVE COVERAGE UNDER YOUR POLICY IF A WIRE FRAUD OCCURS! Again, like many of these claims prevention suggestions, we are trying to document your communications to the client in writing to provide you with a stronger defense if an issue arises later. As mentioned above, your firm's policy concerning how wire transfers are to be handled can be disclosed in the engagement letter. However, the Endorsement requires more than just the engagement letter. In order to trigger coverage under the Endorsement, you must have a NOTARIZED and ORIGINAL INKED Disbursement Authorization and Directive regarding wire transfers in the file.
There will always be those matters where an error happens and we are here to assist in the resolution of those matters. If you follow the above suggestions, you will avoid many potential claims that are preventable with basic risk management procedures in place. In the words of the character Sargent Phil Esterhaus in the 1980's TV show Hill Street Blues, "Let's be careful out there."
About the Author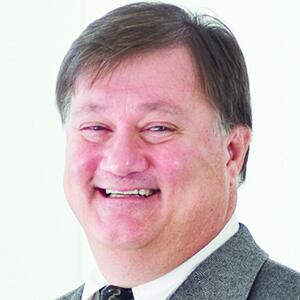 Wayne Stephenson
Wayne Stephenson joined Lawyers Mutual in 1989. He has also worked with First Title and Investors Title as both an underwriting and claims attorney. He specializes in real estate matters. You can reach Wayne at 800.662.8843 or at wstephenson@lawyersmutualnc.com.
Read More by Wayne >