Practicing Law in a Post-Marriage Equality North Carolina: Issues Spotting for the Non-Family Law Practitioner
North Carolina's constitutional ban on same sex marriage, Amendment One, was struck down on October 10, 2014 by Judge Cogburn in Gen. Synod of the United Church of Christ v. Resinger. 12 F. Supp. 3d 790, 791 (W.D.N.C. 2014). Not a full year later, after working its way to the Supreme Court, Obergefell v. Hodges made marriage equality the law of the land on June 26, 2015. 135 S. Ct. 2584 (2015).
Marriage equality, however, has far from eliminated legal issues facing same sex couples. When providing legal counsel to a same-sex couple, or a client with a same-sex spouse or partner, there are numerous legal issues to be aware of, not only for transaction attorneys but for litigators as well. Regardless of your practice area, this article will provide you with some of the potential issues and areas of law to be aware of as you counsel same sex couples.
In order to identify potential issues related to any area of practice, one must understand the lay of the land as it stands with regard to marriage, domestic partnerships, and civil unions across the US.
Marriages, Domestic Partnerships, and Civil Unions:
Marriage is now legal between same-sex couples in all 50 states and U.S. territories. In addition, at least eleven American Indian tribal nations expressly allow same-sex couples to marry and/or recognize same-sex couples' marriages. Although the Eastern Band of Cherokee does not perform same-sex marriages within tribal jurisdiction, the tribe does give full faith and credit to all marriages duly solemnized under the laws of North Carolina or any other state or Indian nation. See Code of Ordinances of the Eastern Band of Cherokee Ord. No. 504, 12-20-2000, Ch. 50, Art. I, Section 50.2 (2000).
However, the availability of marriage to same-sex couples does not necessarily eliminate other forms of recognition across the country. Colorado, Hawaii, Illinois, and New Jersey allow same-sex couples to enter into civil unions as well as to marry.  California, Oregon, Nevada and the District of Columbia offer domestic partnerships that include nearly all the rights and responsibilities of marriage. Washington State previously allowed domestic partnerships, but as of July 1, 2014, only couples where one partner is age 62 or older may enter into a domestic partnership.
Some states which offered civil unions prior to the Obergefell decision have chosen, at different times, to automatically convert all civil unions to marriages.  These states include Connecticut, Delaware, New Hampshire, and Washington. See e.g. Conn. Gen. Stat. § 46b-38rr; Del. Code Ann. tit. 13, § 218. Others have allowed couples the option of converting, but continued to recognize civil union or domestic partnerships to varying degrees.  These states are Rhode Island, District of Columbia, and Illinois. See R.I. Gen. Laws Ann. § 15-3.1-12; D.C. Code § 32-702; and 750 Ill. Comp. Stat. Ann. 75/65.
North Carolina is a state made up of a mixture of citizens.  Residents include those who have been born and raised in North Carolina, those who have retired here, those who have come here for work or school and stayed, and those who are part of the more transient student population.
According to the North Carolina Population Center, forty-two percent (42%) of the population of North Carolina was not born in North Carolina. Rebecca Tippett, Non-NC Native Population by County (2014 http://demography.cpc.unc.edu/2014/08/04/non-nc-native-population-by-county/ (last visited Oct 15, 2015). North Carolina is equally a destination for retirees, students, and job seekers. With a continuing influx of non-North Carolina born adults, it is highly likely that attorneys, wherever they reside in North Carolina, will provide some legal services to a non-North Carolina born client.
When counseling same sex couples who have lived outside of North Carolina it is important to consider the ramifications of prior or current domestic partnerships or civil unions in those states, as they may have an effect on marital status now post-marriage equality.  As described above, some of those civil unions, if not properly dissolved (whether a current or a former relationship) may have been converted to a marriage by operation of law.
Particular Issues
Confidential Marital Communications
Confidential marital communications have long been deemed privileged communications which are not to be disclosed within litigation, in both criminal and civil actions. "[a] confidential communication between husband and wife is privileged and neither spouse may be compelled to disclose it when testifying as a witness." Kenneth S. Broun, Brandis & Broun on North Carolina Evidence 419 (6th ed. 2004). See also N.C.G.S.  § 8-57(c) and N.C.G.S. § 8-56.
Now that the same-sex marriages are recognized in all jurisdictions, this privilege must be recognized within the context of both civil and criminal actions. If your client is in a same sex relationship, it is imperative to ask about current and past marital status with parties involved in the action. In addition, as discussed supra, it is important to ask your client about civil unions performed in other states. The privilege may apply, even if your client isn't aware that he or she is now married to his/her partner.
Compelled Testimony
In addition to the privilege described supra regarding confidential marital communications, compelled testimony against a spouse in civil actions, and in criminal actions (with some statutory exceptions) is prohibited by statute. See N.C. Gen. Stat. § 8-56 and §8-57(b). This, of course, also applies to same-sex spouses as well as those of opposite sex.
Elective Share
Prior to marriage equality, neither member of a married same-sex couple in North Carolina had a right to an elective share upon the death of the other. The statutory right to claiming an elective share to an estate exists whether the decent dies testate or intestate.  "The surviving spouse of a decedent who dies domiciled in this State has a right to claim an "elective share", which means an amount equal to (i) the applicable share of the Total Net Assets, as defined in G.S. § 30-3.2(4), less (ii) the value of Net Property Passing to Surviving Spouse, as defined in G.S. § 30-3.2(2c)." N.C. Gen. Stat. § 30-3.1.
The amount of the elective share increases over the time that the two people have been married. This ranges from 15% if married less than five years to 50% if married more than fifteen years.  See N.C. Gen. Stat. § 30-3.1.
Now that same-sex marriage is recognized by the state, a spouse, regardless if he or she is the same or opposite sex of the decedent, has the option of taking this elective share.  If a civil union has been converted to marriage, depending on the state which converted the civil union to marriage, the date of marriage may be retroactive and would affect the amount of the elective share.
Taxes
As noted briefly supra, some states have made the first date of marriage retroactive when civil unions were converted to marriage. Generally, the IRS allows individuals to amend tax returns up to three years from the filing date of the return. If your clients have been married during that period of time, either by operation of conversion from civil union to marriage, or by marriage itself, and they filed separately, those tax returns should be reviewed.
Property Ownership and Protections from Creditors
Same-sex spouses can now own property titled to them as tenancy by the entireties. N.C. Gen. Stat. Ann. § 39-13.6. Prior to marriage equality in North Carolina, married same sex couples whose status was not recognized by the state could only own property together as tenants in common or as joint tenants with the right of survivorship.  Holding property together as tenants in common and as joint tenants with the right of survivorship does not protect the property from creditors. Under North Carolina law, real property held by a husband and wife as a tenancy by the entireties is protected from the creditors of each individual spouse, who cannot force a sale of the property to pay a debt. Title to all real property held by same-sex spouses should be reviewed to maximize protections for the individuals.
Employee Benefits: Retirement Accounts, Pensions, and Healthcare
Same-sex spouses now have all of the same rights as opposite-sex spouses when it comes to ERISA governed employee benefits. To touch on a few issues, ERISA governed pension plans are required to provide qualified joint and survivor annuities in the case of married employees. This can only be waived if both the employee and the spouse consent. Furthermore, retirement plans other than pensions must either provide for the annuities described above or provide that the remaining balance is paid on death to the spouse. Spouses must consent to any loans from ERISA plans. When counseling married same-sex clients regarding retirement accounts, it is imperative to advise them regarding beneficiary forms and spousal rights to those assets.
With regard to ERISA governed health care coverage, an employer may, but is not required to, offer health plan coverage to spouses.  If they do offer coverage to spouses this includes same-sex spouses. If an employer provides health plan coverage to an employee's spouse, either same-sex or opposite-sex, the contribution is not includible in the employee's W-2 income, taxable to the employee, or subject to federal income tax withholding, FICA (Social Security and Medicare taxes), or FUTA (federal unemployment taxes).
Conclusion
Gen. Synod of the United Church of Christ v. Resinger and Obergefell v. Hodges together have established marriage equality in North Carolina. However, the complicated patchwork of state laws governing relationship recognition up to June 26, 2015 can lead an uninformed attorney to improperly advise his or her clients. Thorough research and thoughtful questions about current and former forms of relationship recognition lead to solid advice and successful counseling.
About the Author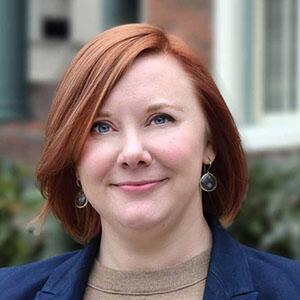 Rachel Blunk
Rachel Blunk is currently an associate at Sharpless & Stavola, PA in Greensboro, NC. She has a hybrid practice including civil litigation and business law. She has been named Rising Star in the area of Employment and Labor by North Carolina Super Lawyers in both 2014 and 2015. Rachel speaks and writes frequently on a variety of issues, and focuses her scholarship on legal issues facing the LGBT community in North Carolina.

Read More by Rachel >