Practice Points with Mark Scruggs: What Is Your Blue Chair?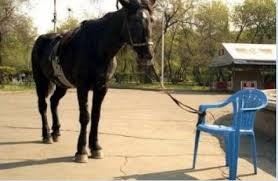 What keeps you doing what you are doing? When you think, "I would like to try something new," what stops you? What is your next thought? Is it, "But I can't because…"?
When someone asks me what I do for a living, I say, "I'm a lawyer!" I take pride in my profession. But I'm not a lawyer in the sense that many of you are. Yes, I am trained and licensed as a lawyer, and I worked hard at practicing law for 14 years. But for the last 20 years, I have worked for an insurance company. A former colleague of mine at Lawyers Mutual when asked what kind of work he did, would reply, "I work for an insurance company." I cannot bring myself to do that! My first response is always, "I am a lawyer." Being a lawyer and maybe more critical, calling myself a lawyer, is crucial to me.
I am of a vintage that invites me to think about life after law. You may be, as well. Or, you may be in mid-career and just be feeling like the practice of law is not what you thought and hoped it would be. What holds us back from leaping into some new endeavor that does not involve being a lawyer, and how can we get past that sticking point?
The first thing we have got to get past is our identity crisis. For many of us, our identity, our sense of worth, is inextricably tied to being and calling ourselves a lawyer. Suppose you choose to apply for "inactive status" with the State Bar. In that case, you cannot hold yourself out as a "lawyer," "attorney," "attorney at law," or use any other designation that implies that you are an active attorney who can provide legal services in North Carolina. (That includes giving legal advice regarding North Carolina law.) Is identifying as a lawyer your Blue Chair? Is it mine?
We also must overcome our lawyer-born high degree of pessimism and skepticism. Studies have shown that lawyers rank higher on pessimism and skepticism than other professionals and the general population. These may be positive attributes for law practice, but they may make us more resistant to change and more likely to focus on the potential negatives than positives.
Change your language. Words matter. If you are a "senior lawyer" like me, don't call it "retirement." Call it "transitioning" or your "second season." Your transition will not be your father's retirement. The average American's life expectance is 78 years. That is up from 70 years in 1960 and 60 years in 1930. You and I have many more years to do something new, different, and fulfilling.
Transition to something and not away from something. Before you make a change, have a plan. How are you going to occupy your time? And don't say, "I'm going to read more and travel more." You might, and I hope you will, but I don't think that is sufficient for most of us. Do you have a social cause or a hobby that you can develop into your passion? If you, like me, don't know what you would do if you couldn't be a lawyer, start working on it now.
Often, the things holding us back from breaking away are all in our heads, just like the poor beast in the picture above. Identify your Blue Chair and don't let it keep you tied down.
About the Author