John Hester: Celebrating 30 Years of Service
Since 1985, Senior Claims Counsel John Hester has helped thousands of North Carolina attorneys with issues large and small.  During that time, he has maintained a passion for Lawyers Mutual and service to the lawyers of this state.  To celebrate his 30th Anniversary, John shares some thoughts and reflections about Lawyers Mutual's past, how things have (and have not) changed over the years, and where we are heading in the future.
What drew you to work at Lawyers Mutual?  
By 1985, I was a licensed attorney with three years of experience in private practice and ten years of experience in corporate practice and insurance litigation. It was my desire to find a new position where I could make a more positive impact on the practice of law and perhaps find a way to be of greater service to the bar.  Lawyers Mutual felt comfortable and inviting and offered me an opportunity to help other lawyers when they experienced some difficulty.
What do you do on a typical day?
My current role as Senior Claims Counsel includes responding to attorneys who have questions or are experiencing some difficulty in their practice.  I have contact with dozens of attorneys monthly through telephone discussions and emails.  In most instances, I am able to assist them with their matter, but if not, I will find an expert in that particular field to help them.
Describe your early experiences at Lawyers Mutual.
When I joined Lawyers Mutual in 1985, I became the company's 7th employee.  There were two attorneys handling claims, a claims administrator (Connie Crumpler is still here and our senior employee at Lawyers Mutual), a bookkeeper, a secretary, an underwriter, and the president.
Chris Coley and I were in claims, where we initially shared the same office and actually the same desk and telephone. There were no computers, and even photocopies were an expensive and time-consuming process.  Primarily, we used carbon paper to make copies of original documents and letters.
The primary claims we handled involved litigation problems, including missed statutes of limitations and other deadlines.  We also handled a significant number of real estate related claims.
What became obvious to me is that many of the matters being reported offered opportunities to correct the problem and avoid a claim.  I began to work directly with the attorney to correct the problem, and where that attorney needed assistance, I retained claims repair counsel to assist them.  It quickly developed that these claims repair efforts were almost always successful and the cost of the repair utilizing outside counsel was significantly below the cost of paying a claim.  Based on these experiences, the Claims Repair Program began, which was shared with similar companies in other states.  Our claims repair effort is now a model for the industry.
How did Lawyers Mutual assist in the formation of similar companies in other states?
In the early late 1970's and 1980's, there was a national legal malpractice insurance crisis.  Commercial companies everywhere began withdrawing from the market and sending cancellation notices to all their insureds.  Every law firm was concerned that they would soon receive a cancellation notice.
Lawyers Mutual had formed in 1977 and the California Company was close behind. By the 1980s, we were meeting with attorneys from other states who were interested in forming their own companies.  John Beard and other board members had significant contacts with the ABA, and this formed the initial path of contact.  We provided advice directly on how to establish underwriting and claims departments.  We invited others to come see how we conducted business and visited them in their various states for hands-on training.  As I recall, we helped ten or twelve companies in their start-up activities.
Is there a particular claim or claims repair that stands out?
In the 1980's, we received many claims where the summons was not properly served on the defendant, resulting in the plaintiff's case being dismissed.  The cost of paying those claims was significant.  Several of our attorneys reviewed those claims and concluded that there was no hope for a claims repair effort.
Raleigh attorney Gary Parsons regularly assisted our insureds in the defense of legal malpractice cases.  Because of his keen knowledge of civil procedure and creative thinking, I asked him to review a service of process case, where the summons was served outside the time limit by a day or two.  He quickly responded that he might be able to obtain a court order extending that time, but it would be an uphill battle. The repair proved successful at the trial level and was later affirmed by the Supreme Court.
The favorable opinion in this case helped propel repair efforts in other deadline cases and in other areas of practice. 
What makes Lawyers Mutual unique?
There are only a few lawyer owned, operated and managed companies in the country, and we were the first one.  When you contact Lawyers Mutual about a problem or a concern, you are going to speak with a lawyer, not an adjuster.  When something is reported to us, the first thing that takes place is a close examination of what claims avoidance or repair efforts are possible.
The Client Services Program at Lawyers Mutual provides CLE programs, newsletters and online services that are the envy of every other company in the country.  Thousands of attorneys in our state annually receive personal attention either directly or through online services.  This program began very humbly with two of us conducting one or two CLE courses annually.  Now we are offering CLE programs throughout the state on almost every topic imaginable, plus online risk management materials.
What has been your proudest accomplishment?
During my 30 years with Lawyers Mutual, I maintained a life outside the office. I raised four sons with the help of my parents and later with the help of my wife Belinda.  Now all are professionals in their separate fields, with one being an immigration attorney in Raleigh.  Truly, to the extent that I have helped accomplish anything over the last 30 years, I believe the happiness and success of each of my sons is at the top of the list.
What is the most important thing you have learned from working at Lawyers Mutual?
I have learned that the most important thing I can do is to listen when I am contacted by someone needing my attention.  Not just what they say, but how they say it.  What is their primary concern and what can I do to help them?
The second lesson I have learned is not to be judgmental, condescending or do anything to put someone on the defensive. My job is to help them now with their immediate problem.  Later, I can suggest ways they might improve their practice to avoid this kind of situation.
I keep in mind not to rush to a judgment until I have all the information needed on which to base a decision in a case.  Keep an open mind, especially when you think you know something.  When I am absolutely certain I know something, it is not unusual to later learn I was wrong.
What is the best part of your job?
The best part of my job is the opportunity to work with the finest group of attorneys anywhere, the lawyers of North Carolina.
Every day I work with outstanding attorneys throughout the state who are experiencing some problem with a matter they are handling for a client.  I enjoy coming to the office every morning knowing that I will have several new matters where there are service opportunities.
What do you see ahead in the next 10 years for Lawyers Mutual?
First of all, I hope to be here at Lawyers Mutual in ten years, if at all possible.  (Exactly how old will I be?!)
Just like the last 30 years, the next 10 years will hold new challenges that we cannot even appreciate at this time.  We can only guess where technology will drive us.  In ten years, the Bar will be considerably younger and perhaps somewhat less experienced than it is currently.  We will see a more diverse membership in the Bar and on the bench.  I wonder if the cost of higher education and professional degrees will reduce the number of people entering the practice of law.
I believe that our strength is in providing immediate personal service, and there will remain a need for personal service and immediate attention.  This service will be what our insureds want and deserve.  This cannot be provided by anything less than direct contact with an attorney who can take action immediately to help an insured in need.
In my opinion, Lawyers Mutual will continue to provide excellent service if we carefully listen to the needs of the insureds and remain flexible in responding to those needs in a timely fashion.
John Hester as interviewed by Laura Loyek.
About the Author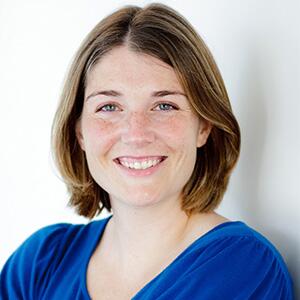 Laura Loyek
Laura Loyek is a claims attorney with Lawyers Mutual, focusing in the areas of real estate, litigation, appellate law, and bankruptcy.  Prior to joining Lawyers Mutual in 2009, Laura practiced for six years in the areas of complex commercial litigation and land use/zoning.  Laura received her J.D. from Harvard Law School and her undergraduate degree from Wake Forest University.  She is an active member of the North Carolina Association of Women Attorneys and the Real Property Section of the North Carolina Bar Association. 
Read More by Laura >