What I Did on My Summer Vacation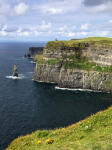 On my summer vacation, I traveled with my wife and her mother to the Emerald Isle. No, not Emerald Isle, North Carolina, but the Republic of Ireland. I would like to share a bit of our wonderful trip with you with the hope that if you have not visited this beautiful island, you will plan a trip soon.
We got our trip off on the right foot by flying with Aer Lingus, an Irish airline. The Irish flight attendants with their beautiful accents got us into an Irish state of mind before we ever left U.S. soil. We traveled first to Ireland's capital city Dublin where we made the obligatory visit to the Guinness Storehouse, home of the "Black Stuff," and from what I could tell during my time in country, Ireland's most popular beer. The Guinness Storehouse is a seven-story tribute to all things Guinness capped off on the top floor with a free pint of Guinness! If you're a Guinness lover, or just a beer lover, this is the place for you!
On the front end of our trip, we were only in Dublin for a few hours. Our goal for the day was to make it to Killarney in the southwest part of Ireland. We made the three-hour train trip to Killarney and checked into our hotel that would be our base of operation for the next few days. Killarney is a good jumping off point to see many nearby attractions, such as the Muckross House and Abbey, Torc Waterfall and the Ring of Kerry.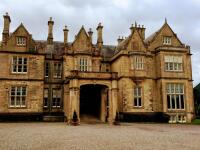 We took a guided tour of Muckross House, a Tudor-style mansion built in 1843. Muckross House is sixty-five rooms of spendor. The house stands close to the shores of Muckross Lake, one of Killarney's three lakes, providing a beautiful backdrop for this stately mansion. Equally interesting is the history of the Herbert family that built the house and occupied it over many years. The Muckross area is also the home of some of Ireland's most celebrated weavers. Those looking for quality, hand-made woolens will find them for sale here at the Muckross House.
I would say on of the highlights of my trip was the bus tour we took along the Ring of Kerry. The 111-mile circuit of the Iveragh (pronounced eev-raa) Peninsula winds past beautiful beaches, medieval ruins, green mountains and clear, blue lakes, with ever-changing views of the Atlantic Ocean. I would recommend you take a bus tour rather than drive yourself. The scenery is so jaw-dropping, you will want to spend all your energy taking in the scenery rather than making sure you're driving on the left side of the road and not crashing head-on into an oncoming motorist.
Yes, in Ireland, they drive on the wrong side of the road. We did not rent a car until three days into our trip, and I worried over it for those three days. Don't. This was my first time driving on the left, but I must say it only took a little while to get
comfortable with it. It was amazing how quickly my brain made the adjustment. If you've not driven on the left before, I would recommend upgrading to an automatic transmission. I did that, and it was nice not having to think about changing gears with my left hand.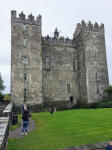 From Killarney, we drove north to Ennis, in County Clare, our next base from which to explore. We toured the Bunratty Castle and partook that same evening of a medieval banquet in the castle. Bunratty Castle was built around 1425. During the 16th and 17th centuries, it was an important stronghold of the O'Briens – kings and later earls, of Thomond or North Munster. The main block as three floors, each consisting of a single great room or hall. The four towers have six stories each. The castle is entered by a drawbridge to the Main Guard. The medieval banquet was a lot of fun, and I would recommend it. The "Bunratty Castle Entertainers" perform medieval music. The food was excellent and the mead (honey-wine) flowed freely. Everyone was seated in the great hall at communal tables, an atmosphere that lent itself to everyone getting into the spirit of merriment. Adjacent to Bunratty Castle is a Folk Park that is well worth seeing. Bunratty Folk Park is a living reconstruction of the homes and environment of Ireland over a century ago. You can visit rural farmhouses furnished as they would have appeared at the time and walk down a village street complete with shops that one would have found in a typical Irish village.
From our base in Ennis, we also drove to the Cliffs of Moher, Ireland's most visited natural attraction. The cliffs were formed about 320 million years ago, and rise 702 feet at the highest point and range for five miles over the Atlantic Ocean on the western seaboard of County Clare. Don't shortchange yourself by allowing too little time to wander around the cliffs. There is much to see and you could easily spend several hours there.
From Ennis we drove north to Galway in County Galway, our third and final base of operation. From Galway, we drove to Kylemore Abbey in Connemara, County Galway. Kylemore Abbey was founded in 1920 on the grounds of Kylemore Castle for Benedictine nuns who fled Belgium in World War I. Kylemore Castle was built as a private home by Henry Mitchell, a London doctor. He moved to Ireland when he had his wife Margaret purchased land around the Abbey. Construction started on the Castle in 1867, and took a total of one hundred men and four years to complete. Margaret died of dysentery on a trip to India only four years after Kylemore Castle was completed. She was only 44 years of age. Heartbroken, Henry had Margaret's body interred in a mausoleum built on the estate. He also built a "cathedral in miniature" on the estate as a lasting tribute to his love for his wife Margaret. The estate also contains a Victorian Walled Garden comprising roughly six acres that is beautiful to stroll around.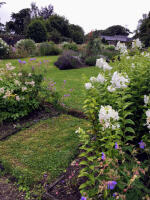 While the Kylemore Abbey and gardens were beautiful and interesting to learn about, I would have to say the 45 minutes or so drive from Galway to Kylemore Abbey was a highlight of the day for me. The drive meandered along a two-lane road, often shared by sheep, through some of the most beautiful country I saw in Ireland. Kylemore Abbey is in Connemara, County Galway. The land in this region bears little resemblance to the land around Killarney and the more southern part of Ireland. To me, it looked like the American West. Wild and mountainous, cut through by crystal clear, fast-flowing rivers. The land around Killarney on the other hand, looked more pastoral and tended to. Don't miss seeing the beautiful scenery in the Connemara region of Ireland.
From Galway, we took the train back to Dublin for our trip home. While in Dublin on our last day, we took a guided tour of Christ Church Cathedral, a place where people have been gathering to worship God for nearly one thousand years. We had hoped to see the Book of Kells at Trinity College, an ancient manuscript that many consider the most beautiful book in the world. But alas, time was short so the Book of Kells will have to wait until my next trip to this beautiful land.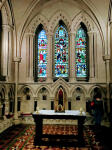 By far, the highlight of my trip to Ireland was the people of Ireland. To a person, the folks we interacted with were friendly, helpful, warm and engaging. It was not until we went through United States Customs in the Dublin Airport at the end of our trip that we were spoken to sharply. By an American. Or at least that's how it seemed.