What Does Your Email Disclaimer Say?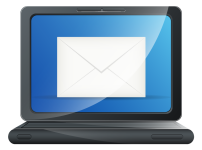 Do you use an email disclaimer, and do you put it before or after the body of the message?
Have you read it recently, or is it just boilerplate that you routinely attach to outgoing mail?
These questions may seem insignificant, but they might prevent an embarrassing – and perhaps unethical – disclosure of confidential information.
"[L]ike anything else that becomes routine, some attorneys have lost track of the purpose of the disclaimer and could benefit from a little thought on improving its language and placement," says California practice management advisor Julie Brook in this post. "If that's you, take a look at your disclaimer and compare it to our sample."
There are two principal reasons for including a disclaimer in emails, according to Brook:
To reinforce the confidential nature of an attorney-client communication when sending an email to a client; and
To guard against the creation of an attorney-client relationship with a potential client or other individual based on the information communicated in the email.
Sample Disclaimer
Brook works at CEB, the practice assistance arm of the California State Bar and the University of California. Here is a sample disclaimer she recommends:
THIS ELECTRONIC COMMUNICATION IS PRIVILEGED AND CONFIDENTIAL
IMPORTANT NOTICE TO EMAIL RECIPIENTS:
DO NOT read, copy, or disseminate this communication unless you are the intended addressee.
This email communication contains confidential and/or privileged information intended only for the addressee. Anyone who receives this email by error should treat it as confidential and is asked to call (collect) [name of law firm] at [phone number] or reply by email: law firm's email address] or by fax [law firm's fax number].
This email transmission may not be secure and may be illegally intercepted. Do not forward or disseminate this email to any third party. Unauthorized interception of this email is a violation of federal law.
Any reliance on the information contained in this correspondence by someone who has not entered into a fee agreement with [name of law firm] is taken at the reader's own risk.
The attorneys of [name of law firm] are licensed to practice law ONLY in California and do not intend to give advice to anyone on any legal matter not involving California law.
Where Should It Go?
Lawyers Mutual suggests placing your email disclaimer at the top of the message to ensure that it is read.
Here are three other email confidentiality tips from Lawyers Mutual:
Turn off auto-fill
Remove metadata
Send pdfs as image files
NC Ethics Rules on Confidentiality
Rule of Professional Conduct 1.6 says: "A lawyer shall make reasonable efforts to prevent the inadvertent or unauthorized disclosure of, or unauthorized access to, information relating to the representation of a client."
North Carolina RPC 252 says: "[A] lawyer in receipt of materials that appear on their face to be subject to the attorney-client privilege or otherwise confidential, which were inadvertently sent to the lawyer by the opposing party or opposing counsel, should refrain from examining the materials and return them to the sender."
Have you looked at your email disclaimer lately? Does it need a tuneup?
Sources: