Video Studio: Where to begin? How to Build a Video Studio Part III
Video Boot Camp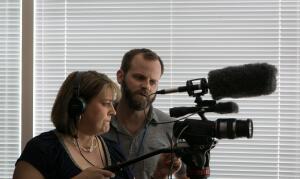 We completed construction of our video studio (as discussed in our previous blog post) and we've purchased equipment; now we need to learn how to use our equipment.
We resolved our dilemma by hiring videographer Jason Arthurs  to teach us the art of videography in a week. I call this boot camp because it was all day, intense training that left us dazed, tired and the proud producers of five high quality videos which you can view on our website.
Many of the reasons we see video in so many places is because it has become cheaper and easier to purchase and use a video camera. As a matter of fact, most of us carry them in our pockets on our smart phones. However, taking the time to learn from a professional can instantly up your game.
Here's what video boot camp looked like.
Day 1 was set-up. Since we wanted to train multiple people (three teams of two people) on how to use our equipment and we only had one set of equipment, we had to rent additional cameras and tripods. Jason took care of this for us. We needed multiple computer work stations for editing. All of this required a coordination of efforts between Jason and our IT department and took a full day.
Day 2 opened with a presentation of storytelling through video. We watched some documentary films, commercial video and law firm videos. We listened to National Public Radio host Ira Glass, a master storyteller, talk about the art. This lead to a discussion of video basics and we did our first video exercise.
Our teams filmed each other in the game of "2 Truths and a Lie". Many of you have played this game as an ice-breaker, you tell three things about yourself, two are true and one is a lie, and the group tries to guess which is the lie. In the video exercise, we each videoed the other member of our team making the three statements. Having instructions for what to record made this exercise easier as we didn't have to struggle with what to shoot or what to say. We had to unpack the camera, set it up on the tripod, set the shot, use the headphones to make sure we could hear the subject speaking, figure out some basic lighting and then point and shoot. Afterwards, we played the video back onscreen so everyone could watch and we had fun guessing the lies! At the end of our first day of training, everyone made a video – that felt like a huge accomplishment.
Day 3 started in the field. Our project was to create a video biography of our claims attorneys. On the previous afternoon, the video teams spent time talking with the attorney we would be videotaping (the "talent") about the story we wanted to tell. The field work allowed us to shoot our "b-roll" – the film that we would use to accompany our interviews. One group started on a running trail, another in a make-shift yoga studio and the third using a neighboring building exterior to depict courthouse steps.
Field work is difficult. It was hot, the equipment was cumbersome in our newbie hands, our talent was inexperienced in how to present on camera. If we were doing this alone, I can imagine we might have come back empty handed. Instead, our instructors urged us to find the scene, get closer to the action, be creative, create a list of shots we wanted to take, try shots that might never be used and above all else to step outside of ourselves. All of us are individuals who are very competent in our fields who were feeling overwhelmed at our inexperience. Trying something new is not for the faint of heart.
Our teams returned to the office and our talent showered, dressed and entered the recording studio for the interview. Our talent took their roles seriously. They had been thinking about the stories they wanted to tell and how they wanted to tie in the footage we took earlier with the interview. Studio work was easier on the film crew. We were at least facing new challenges in air-conditioning.
In the studio, we practiced with different lighting options and a variety of interview techniques. Our talent had to get comfortable in front of the camera and our film crews behind it. After 45 minutes of interviewing, we went to our workshop to begin editing.
As mentioned in the blog post about equipment, you can't use just any computer for video editing. If you are investing in video equipment, you are also going to need to invest in a computer that meets the system requirements for video editing software. These computers are often used for gaming as they have stronger processers, high quality graphics and more memory. Your typical office computer will not suffice and specialized hardware is needed.
We are using Adobe Premiere as our editing software. It is user friendly but having onsite training certainly improved our learning curve. We spent the afternoon combining our interview footage with our b-roll footage. We edited outside sound and perfected our sound bites. We moved the interview sound and tried it over different images until the story we saw in our heads began to appear on our monitors. It felt magical and powerful. Until all of us realized we didn't have enough b-roll footage. Luckily, our instructor knew this would be the case and he built another day of shooting into our schedule.
Day 4 started in the field again. After compiling a shoot list that was both long and detailed (video of Mark's phone, video of Mark's phone ringing, video of Mark's hand on the phone, video of Mark talking on the phone (from 6 different angles) – well, you begin to get the picture – we started shooting. We spent another hour or two shooting video, then ran back to the work room to complete the editing process. In addition to adding in all of new footage, we still had to fine tune our story, make transitions, add special effects, add music, and add credits. And finally, at 4:30, it was done. Our team of amateur videographers had a video viewing party and we hooped and hollered at our excellent work. The talent was pleased and the crews were euphoric. I hope you'll view our videos here.
Video boot camp was just what we needed to launch our video studio. If you are considering adding video as part of your firm marketing, consider investing in training. You won't regret it.
Camille Stell is Vice President of Client Services for Lawyers Mutual. She hopes to remember to thank everyone during her acceptance speech at the Sundance Film Festival. You can reach her at 800.662.8843 or camille@lawyersmutualnc.com.