Video Studio: Where to begin? How to Build a Video Studio Part II
Video Supply List
How to Build a Video Studio PART II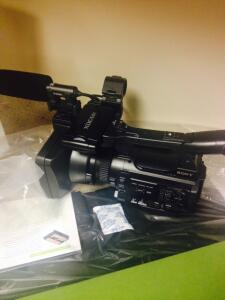 Are you considering building your own video studio but don't know where to start? In yesterday's blog post we discussed the steps we took to build our in-house studio; developing a product list to fit our needs was a huge part of the process. Here's our shopping list of items we purchased for our studio:
Sony SOPMW100
PMW-100 XDCAM HD422 Handheld Camcorder
General Brand GBGT12B
Gaffer Cloth Tape - Matte Black (2.0" x 12 yds)
Impact IMSBE15K
Empty Saddle Sandbag Kit, Set of 6 - 15 lb (Black)
Audio-Technica  (x4)
PRO 88W-830 Camera Mountable Lavalier Pro 88W Wireless System
(4 at different frequency ranges each to avoid interference)
Audio-Technica AUCP8306
CP8306 Adapter Cable for Pro 88 W Wireless System
B&H Photo Video BHCSLBUKM    (x2)
Lavalier Accessory Backup Kit - Medium (1/4") (6mm)  
Sony SOPC234S   (x4)
PC-234S Mini Stereo 3.5mm to 1/4" TRS Stereo Headphone Adapter
Impact IMBGSS12K6
Background System Kit with 10x24' White, Black and Chroma Green Muslins
Impact IMBGR1024SBN
Reversible Muslin Background (10 x 24', Stone Blue/Nickel)
Delta 1 DEMMS38
Muslin Mover Three-Wall 36' System
Impact IMLS96HAB   (x2)
Air-Cushioned Heavy Duty Light Stand - Black, 9.5' (2.9m)
Genaray GESPAD35    (x2)
SpectroLED-9 Light (100-240VAC/12VDC)
Genaray GESPAD75
SpectroLED-14 Light (100-240VAC/12VDC)
Avenger AVC1000   (x3)
C1000 Drop Ceiling Scissor Clamp
Mackie MA1402VLZ4K
1402VLZ4 14-Channel Compact Mixer with Padded Bag Kit
Sennheiser SEHD280P
HD 280 Pro Circumaural Closed-Back Monitor Headphones
Pearstone PEHDC1010W
Pro Camcorder Case with Wheels
Azden AZSGMPDII
SGM-PDII On-Camera Short Shotgun Microphone
Sony SOSBS32G1A
32GB SxS-1 Memory Card
Magnus MAVT4000
VT-4000 Tripod System with Fluid Head
Additional sound dampening provided by:
Double layer of drywall
Multi-density acoustic fabric in between the drywall layers (we used db-3 PRO by United Plastics Corporation)
Acoustic panels on all walls
Also needed:
Acoustic seals or thick weather stripping for the doors to fill any gaps
Ladder
Cordless drill/screwdriver
Saw
Screws
Sand (6x15lbs = 90lbs)
Locks (for the cabinet)
Bungee cords
Steamer (optional to get wrinkles out of the curtains)
These are the supplies and equipment we found to be the best fit for our video studio. Once you assess your needs, you may not need all the items listed above. We hope this list helps you begin to think about your specific studio needs and narrow down your product list.