These Words Can Make Your Practice More Profitable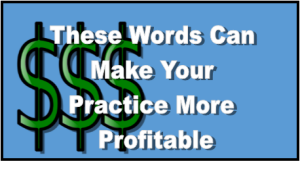 What story are you telling the world about who you are and what you do?
Because make no mistake, you're telling a story – whether you know it or not – through the words that appear on your website, in your social media posts and even on your letterhead.
For example, your "About Me" page could begin with a list of your academic degrees and professional achievements. This tells the story, "Look at me. Look how accomplished I am."
On the other hand, it could open with, "I help people get through difficult times in their marriage." This says, "Look at you. You're stressed and scared. Maybe I can help."
Or it could say, "I help people with financial problems find solutions they might not even know about." This tells a story of hope and encouragement.
My business is giving lawyers the right words to tell a story that attracts new business and keeps it coming. To do this I draw on 30-plus years as a journalist, legal editor and fiction writer.
It never ceases to amaze me how many otherwise excellent lawyers are telling dull, boilerplate – and sometimes ungrammatical – stories about themselves.
I get why it happens. Most lawyers are too busy doing what they do best – handling cases, dealing with clients, running their firm – to dwell on the words they are putting out to the public. Others lack the necessary writing skills.
But if you don't tell a powerful story about your practice, you're sabotaging your own success.
3 Ways to Improve Your Messaging
Here are three simple ways a wordsmith can boost your bottom line:
Website cleanup. Lawyer websites are often busy, loud and cluttered. Simpler and cleaner is better. I worked with one attorney who had a 3,000 word letter from himself on the landing page. Reading it was a painful slog. My guess is nobody ever made it all the way through to the end – including the attorney himself, considering the typos and split infinitives. We changed it to a clickable photo of himself with the caption, "Find out how I can help you today."
Attorney bios. Sure, your credentials are important. But don't lead with them. Start instead by speaking directly to the prospective client. Include a button or link to your CV. Give the reader some credit. They know how to learn more about you if they're so inclined.
Social media ads and posts. Say you've written a scholarly article or handled a significant case that might interest other lawyers. A brief ad or three-sentence post on Facebook, LinkedIn or other social media – linking to the article or case review - could generate valuable B2B referrals.
What story are you telling with your messaging? Is it a comedy, drama or tragedy? How would you like it to end?