The Cybercrime Dangers You Need to Address
Cybercrime dangers are many and varied. This list provides links to individual blogposts that review these dangers individually in more detail. These tips should help you reduce the likelihood that cyber criminals will breach your law firm's systems.
The topics covered in individual posts are: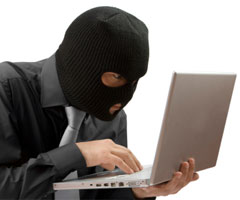 As they can be used as a point of access to your firm's systems, it is critical to address the above issues on your personal smartphones and tablets, as well as your home computers and networks.
Don't be tempted to ignore any of the dangers listed above, or to skip or skimp on the steps suggested to deal with them. Remember, your data and systems are only as safe as the weakest link in your security plan. When you leave on vacation, you lock every door and window in your house. Leaving just one door or window open gives a thief easy and instant access. To protect yourself from cybercrime, it is critical that you fully and properly address all cybercrime dangers. Cyber criminals will look for and exploit holes in your security plan.
Note that some of the configuration changes suggested in this article will require you to have "administrator" access to your device or systems. Operating your computer or device with the administrator account (or an account that has administrator status) will allow you to freely change your configuration or settings. A regular "user" account will not have the ability to change many device or software settings. To prevent regular staff from changing their settings and intentionally or unintentionally causing damage to your systems, everyone in your office should be using a "user" account, not an administrator account or accounts with administrator status. Doing your day-to-day work while logged into a "user" account can also reduce the damage that a malware infection will cause. Without administrator access, the malware will be restricted in its abilities to change settings on your computer.
As a final note, you may find yourself unable to change your configuration if your firm centrally administers and controls the settings for computers and other devices. Speak to your technology support person if you have questions or concerns.
Dan Pinnington is the Vice President of Claims Prevention at practicePRO. This article first appeared in the December 2013 issue of LawPro magazine. Reprinted with permission. For more cyber safety tips, visit www.lawpro.ca.