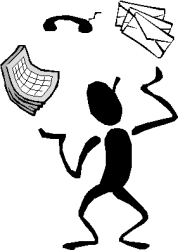 As the end of the year rapidly approaches, you might be a bit too busy to even think about resolutions for 2015, but now is the time to start thinking about what you want in the New Year.  As a law student, you are juggling multiple assignments, projects and trying to pace your preparation and studying for end of semester exams so everything isn't left until the end.  Well, I have news for you – life doesn't get less busy.  In the life after law school "real world" you will be juggling multiple clients, assignments and projects.
In this first of my four part series, I will discuss the importance of planning to understand how you are spending your time so you can allocate it in line with your priorities.   It has been my observation that the most successful people, both in law school and professionally, are those who are clear on their priorities and align their goals and schedules with those priorities.  
Keeping a Time Journal
We all know one very popular resolution in the New Year for people is to lose those extra pounds.  Oftentimes, when people begin a new diet, they are encouraged to keep a food journal and record everything they are eating and drinking for a certain period of time.  Why not do the same with how you are spending your time?  The benefits of tracking your time include the opportunity to understand the most productive times for you during the day, as well as the chance to reevaluate where you are wasting time and how to better spend it.  An added benefit?  Once you get into practice, you will be a step ahead of other associate attorneys. 
Is Your Time Currently Aligned with Your Priorities?
As you look at your time journal, you'll likely notice that where you are spending your time isn't aligned with your priorities.  What's that?  You haven't even thought through what your priorities are?  Well, now is the perfect opportunity as you plan for the upcoming year.
In law school (and in real life!) there will always be more than you can do to occupy your time. Period. The key is to identify priorities so you can proactively plan activity related to your priorities.  All the other "stuff" that comes up requires a plan to determine what is urgent, what is important, and what is a waste of time.
The urgent and important tasks are usually pretty easy to see. They are definite deadlines given by your professor or boss. Do not blow these off! Make them a priority on your "to do" list and allow yourself time to do them really well.
The waste of time category can be a little bit tricker. This is where having a clearly defined list of your priorities will be most helpful.  Many time management experts even suggest creating a "not-to-do list" to help you stay focused on what matters.
Drop Perfectionism
I know many lawyers and law students who struggle with perfectionism.  We have all been known to spend too much time on something that is really important (or interesting) to us. However, when you spend too much time on one thing it prevents you for tackling other things on your list. Acknowledge if you are doing this and give yourself time limits to complete the task at hand and then MOVE ON! 
So, let's recap.  As we all plan to streamline our productivity and efficiency in 2015, journaling how we are spending our time is a great place to start.  Then we can evaluate if our time is spent on the things we value most, our priorities.  At a minimum, those perfectionists among us will be able to identify and combat this all too common time drain. 
In my next post I will cover best practices for getting organized in the new year.  Stay tuned!
Anna Hedgepeth, J.D., is the Business Development and Marketing Manager for Cranfil Sumner & Hartzog.