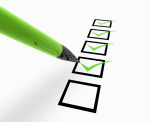 Every member of a law firm, from senior partner to file clerk, is under a strict obligation to protect the privacy and secrets of clients.  Disclosure of a client confidence is one of the most serious errors to make. 
The duty of client confidentiality is broad and not limited to what clients tell you – it also precludes unauthorized discussions of case strategy or evidence. Here are some office ethics tips for your practice:
Resist the temptation to share information with people not involved with the client's case.
Avoid water cooler discussions and talking about client matters in any public office area, such as the reception desk, where privileged information may be overheard.
Don't talk about client cases with family, friends, etc.
Clear your desk before inviting a client into your office – or use a conference room to meet with the client.
Clear your computer screen of client documents.
Maintain computer security measures.
Use care when talking over speakerphones.
Ensure that the fax/file/photocopy areas of your office are private and not accessible by clients.
Do not release information to telephone callers, such as the client's accountant or insurance adjuster, without authorization.
Use shredders or other secure disposal methods for sensitive material.
Your duty of confidentiality continues after the case is closed and after you leave the firm.
It's important to have procedures in place to help you protect your firm and your clients. For more resources check out our Risk Management Resource Center.