"Encryption Made Simple for Lawyers"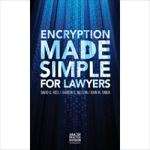 Cybersecurity is becoming an increasingly popular topic of discussion and great concern in the legal world. The thought that someone could possibly gain access to your files and your clients' personal data is scary. However, the answer doesn't lie in shying away from the use of technology (which is almost impossible). The key to protecting yourself and your clients lies in education and preparation.
We are excited to add "Encryption Made Simple for Lawyers" to our lending library. In this book, authors Sharon D. Nelson, David G. Riles and John W. Simek equip you with everything you need to know about encryption and how to protect your data.
The book explores:
The basics and history of encryption
Ethical issues
Options for encrypting data on devices
Wireless and cloud technology encryption
Predictions for the future evolution of encryption
Many firms ignore the need to develop and implement a cybersecurity program because it can be a bit overwhelming and quite frankly like learning a new language. You don't want to start thinking about your encryption plan after there's been a security breach.
Legal Technology offers great tips for an encryption quick start action plan.
Be sure to check out "Encryption Made Simple for Lawyers" in our lending library today to help you get on the fast track to keeping your data safe!