NCBA honored for its Transitioning Lawyers Commission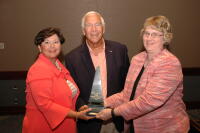 On July 30, 2015, the North Carolina Bar Association (NCBA) was honored for its Transitioning Lawyers Commission (TLC) at the American Bar Association's annual meetings in Chicago, Illinois.  The National Association of Bar Executives (NABE) presented the 2015 NABE LexisNexis Community & Educational Outreach Award to the NCBA in recognition of the important work being done by TLC in service of North Carolina lawyers and the public.
NCBA President Shelby Benton and Nan Hannah, founding chair of the TLC, accepted the award at the NABE luncheon at the Hyatt Regency Hotel in Chicago. In attendance supporting NCBA and TLC were Allan and Patti Head, Nancy Roberson of the Mecklenburg Bar Association and incoming President of NABE, as well as a delegation from the North Carolina State Bar including Ron Gibson, Margaret Hunt, Mark Merritt and Ron Baker. The award was presented by Ian McDougall, Executive Vice-President and General Counsel for LexisNexis. Mr. McDougal previously served as Board Director and Trustee for U.K. charity Peaceful Place, which is dedicated to providing support to sufferers of early-onset dementia.
 TLC was formed by the NCBA in 2012 under the leadership of NCBA President Mike Wells to help lawyers who need assistance transitioning from the full-time practice of law. The inspiration for the TLC I is rooted in the work of the NCBA Senior Lawyers Division, as well as the NCBA Small Firm, Solo and General Practice Section, which developed the award winning Turning Out the Lights publication for closing out a law practice.
TLC educates and counsels lawyers on issues related to life's transitions – both anticipated and unanticipated. Issues like as planning for retirement and dealing with the problems of an aging lawyer population such as cognitive impairment, disability and death are all a part of TLC's work.
TLC is a designated Lawyers Assistance Program so all conversations with TLC are completely confidential.
Visit TLC's webpage at https://www.ncbar.org/members/committees/transitioning-lawyers-commission/ for more information.
Mark Scruggs is a claims attorney with Lawyers Mutual specializing in litigation, workers compensation and family law matters. Mark currently serves as co-chair of the Transitioning Lawyers Commission. You can reach Mark at 800.662.8843 or at mscruggs@lawyersmutualnc.com.