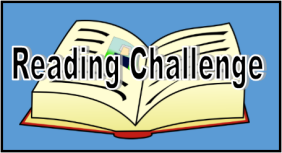 "If you want to be a writer, you must do two things above all others: read a lot and write a lot. There's no way around these two things that I'm aware of, no shortcut." 
Stephen King, On Writing: A Memoir of the Craft
In 2016, I set a New Year's resolution – a reading challenge to read 52 books in a year. By December 31, I had achieved my goal plus one – 53 books read in 2016.
The Technology of Tracking the Reading Challenge
My colleague Warren Savage introduce me to GoodBooks, a mobile app (and website) that includes book reviews, recommendations, social sharing with friends and the ability to create your catalogue of books you have read, are currently reading or want to read. I use the app's Reading Challenge to track my progress. It is also nice to have one place to track recommendations I receive from friends or books I read about that I want to add to my reading list.
The Numbers
Goodreads also provided statistics about my reading challenge. In 2016, I read 12,970 pages – my shortest book was 23 pages (The Mitford Snowmen by Jan Karon) and the longest was 528 pages (Believer: My 40 Years in Politics by David Axelrod). The average length of book I read was 259 pages.
The most popular book I read was "Harry Potter and the Cursed Child", no surprise there. The book I read with the highest Goodreads rating was "Just Mercy" by Bryan Stevenson. No surprise there either, Bryan's book is excellent and it was my top recommendation in yesterday's Part 1 post.
I was in good company with my goal. In 2016, more than three million readers joined the Challenge and collectively read 37.8 million books. The top new books read in the 2016 Challenge were: Harry Potter and the Cursed Child,  A Court of Mist and Fury, and When Breath Becomes Air (also on my recommended list). 
Where I Get My Books
I am a frequent library visitor and this year was no exception. I also bought a few of the books that I knew I would want to keep in my personal library from local independent book stores, Quail Ridge Books in Raleigh and Flyleaf Books in Chapel Hill. Once when I was traveling out of town and realized I left my book at home, I made an emergency visit to the Barnes & Noble at Alamance Crossing in Burlington and came out with collected essays of Nora Ephron in paperback. I visit used book stores, primarily Edward McKay in Raleigh and Mr. Mike's in Wake Forest. My most unusual find was in the Starbucks on Lake Boone Trail where I picked up a Jodi Picoult book that a kind reader left behind, along with instructions on how to register the book at BookCrossing.com.
Your Reading Challenge
There are many ways to set your own reading challenge. You can embark on a plan to read a certain number of books, books from new or different genres than your usual reads, or take a tour through classic literature, perhaps re-reading some of those high school assignments that once seemed like a chore. You can easily find lists of recommended books. Goodreads has multiple lists such as "books that everyone should read at least once". If you spend a lot of time in your car, audio books might be a great choice for you.
Ann Morgan, a freelance writer from London embarked on a great reading adventure. As she describes it on her blog, "In 2012, the world come to London for the Olympics and I went out to meet it. I read my way around all the globe's 196 independent countries . . . sampling a book from every nation." To see Morgan's extraordinary book list visit here - A Year of Reading the World - https://ayearofreadingtheworld.com/thelist/
Goodreads 2017 Reading Challenge
I made a new reading resolution for 2017. As I said yesterday, reading 52 books required discipline and it somewhat limited what I read. This year, I would like to pick up the McCullough Panama Canal book again, along with a biography of John D. Rockefeller, Sr. (also more than 800 pages) which has been on the reading stack for more than a year now). I have set my Reading Challenge at 30 books for 2017.
 As of January 4, there were 778,112 participants in the 2017 Reading Challenge. On average, readers set their goal at 46 books and pledged to read more than 36 million books.
I read to learn. I read because I love it. I read to become a better writer. Join me in setting your own reading challenge for 2017. Check back tomorrow for my book list and reflections from my year in 53 books. Check out part I of my reading challenge here.
Camille Stell is the Vice President of Client Services for Lawyers Mutual. Continue this conversation by contacting Camille at camille@lawyersmutualnc.com or 800.662.8843.