LM in the Community: Every Girl is Worth It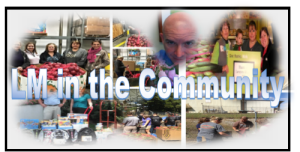 About a year and a half ago, I was introduced to a Christian non-profit organization called House of Hope based in Clayton, NC.  House of Hope is a therapeutic school, home, and counseling center for troubled teenage girls, ages 12-17.  The girls in this program become students and residents of the house for the time they are working through each "phase" of the program.  It is here that they are able to get the necessary one on one assistance with their education and home life. 
On Thursday nights, the house is open to outside groups for a social night.  A few of my friends and I decided to make our own "group" and sign up.  We prepared dinner and took it over to the house where we met the residents, 8 girls and the house mom.  After introductions, we all sat down for dinner and ended up talking and laughing for two hours before we realized it was time to go. That night marked the beginning of a tradition and we have been visiting every 4-6 weeks since. 
Not to brag… but the girls are pretty vocal in telling us that we are their favorite group.  We try to keep their interests in mind and take a different meal and craft/game each time.  There is never a dull moment, and we always leave smiling ear to ear.  I believe they look up to us in many ways and I have to say the feeling is mutual. Watching their personalities grow and mature has been so rewarding.  Seeing a hurt, teenage girl enter the program very timid and afraid, and watching her blossom over the course of her stay into a beautiful, well-mannered and confident young lady ready to take on the world.  That is what it's all about. Because every girl is worth it!