In The Lending Library: The Lawyer's Retirement Planning Guide by Susan A. Berson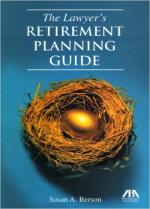 Have you thought about your life after law practice? For many the thought of leaving behind the profession they love and preparing a succession plan is scary. However, this book holds your hand as you think through the steps you need to take to have a stress free transition to retirement.
What is your retirement dream? Author, Susan A. Berson helps lawyers develop a plan that works best for their specific needs. The Lawyer's Retirement Planning Guide provides guidance on investing your money to produce sufficient funds for the lifestyle you want to lead. Find out how to make your funds last you a lifetime.
This book also explores:
How you can combat inflation
Plan for expenses
Protect against overall portfolio risks
And much more!
Do you still have retirement questions or concerns? Join us, November 7, 2018 for our Law Firm Succession: Secrets to a Successful Transition or Sale of a Law Practice program. More information and registration will be available soon.
For more information on our lending library or upcoming programs visit our website.  
The Lawyers Mutual Lending Library is a free service for policyholders, offering books on subjects such as law practice management, technology in the law office, rainmaking, and client relations. Check out this and many other titles at http://www.lawyersmutualnc.com/risk-management-resources/book-lending-library.