In the Lending Library: Roadmap: The Law Student's Guide to Preparing and Implementing a Successful Plan for Meaningful Employment by Neil Hamilton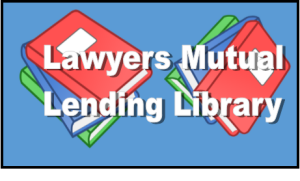 As a law student, the end goal is to find employment, whether that's in public service, in-house counsel, solo practice or in a large firm. How do you gain this employment? By setting yourself apart from others, presenting yourself as a package of unique skills and abilities that will appeal to a wide range of employers. In Roadmap: The Law Student's Guide to Preparing and Implementing a Successful Plan for Meaningful Employment, Neil Hamilton lays out a roadmap of steps that students can take towards meaningful employment. Those steps range from self-assessment, learning the market, implementing the template, developing skills, building relationships and much more. Here are five things that stood out from my perspective as a first-year law student that I think every student should learn early on:
Learning Legal Competencies
The book explains that many employers are moving towards competency models that are based on characteristics of the most successful attorneys and using those models to assess new employees. Law students should develop these skills while in law school to set themselves apart. These include:
problem solving, analytical skills, pro bono involvement, initiative, crisis management, effective written/oral communication skills, commitment to professional development, research skills and negotiation skills.

The Roadmap Template
The book suggests students implement the roadmap timeline. The timeline is mapped from 1L Fall semester to 3L year and outlines key steps you should be taking at each point.
 
Trustworthiness
Trustworthiness is key in hiring new employees. The book provides an equation for trust and how law students can meet each layer. Trust =(C+R+I)/S. To be trusted requires one to score well in each dimension.Credibility typically begins with an assessment through class rank or grade point average but students can also show a strong record in courses specific to practice area, litigation or transactional work.
Reliability requires repeated experiences, so students should look at taking leadership roles in organizations where they can not only set but achieve objectives.
Intimacy involves one sharing important matters with you. Students should take courses in negotiation and client interviewing and counseling to ensure they are comfortable dealing with other's emotions.
Self-Orientation is the focus on self-centeredness vs client focus. Students should practice active listening and volunteer for service organizations/projects to show you can work on tasks that are bigger then yourself.

Treat Professors as your client
Employers look not only for dedication to others but commitment and responsiveness to clients. Students should start practicing client service skills by treating their professors as clients. Students should make a list of skills and apply them such as: learning about their professors, sharing articles of interest with them and volunteering to help on projects they have.

Lessons from Entrepreneurship
This section discusses how law students should not only embrace their entrepreneurial spirit but define their mantra, create and deliver their product and create a sustainable business plan. Defining your mantra stood out as a key tip for law students as it focuses on professional formation being the basis of your business which includes:
Ongoing solicitation of feedback and self-reflection
An internalized standard of excellence at lawyering skills, integrity, honesty and adherence to the ethical codes,
Public service, and Independent professional judgment and honest counsel.

The Lawyers Mutual Lending Library is a free service for policyholders and their staff, covering topics such as practice management, technology, rainmaking, finance, opening a law firm, and transitioning a law practice. Visit us at http://www.lawyersmutualnc.com/risk-management-resources/book-lending-library.